Hyperloop Track to Be Sited in Las Vegas
By Engineering360 News Desk | December 21, 2015
Hyperloop Technologies has procured a 50-acre site in North Las Vegas where it will begin testing technologies aimed at developing a land/water-based passenger and cargo transportation system capable of near-sonic speeds.
The company says it will start propulsion open-air tests (POATs) of its linear electric motor on a one-kilometer track at the site, located in the Apex Industrial Park, early in Q1 2016. The motor could reach speeds of 335 miles per hour.
The Los Angeles-based company is one of several attempting to realize Tesla Motors and SpaceX founder Elon Musk's vision, laid out in a 2013 white paper, of high-speed, pod-based travel through a partial-vacuum tube.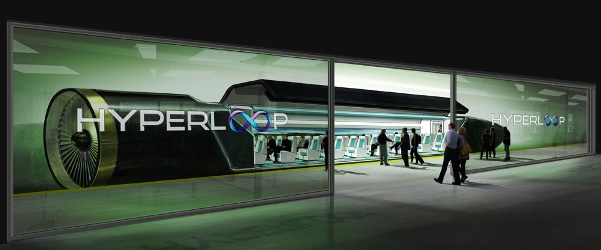 Levitated pods will carry passengers at more than 700 mph. Image credit: Hyperloop Technologies.The POAT is the first step toward a full test of a Hyperloop prototype. The company is in the final stages of selecting the test site location where a full-scale, full-speed prototype and 3km track would be built.
The company says it is preparing to have the prototype site fully operational by Q4 2016. Plans are for the test to levitate a pod and accelerate it to "over 700 mph." Current plans call for development of a commercially viable Hyperloop system by 2020.
Hyperloop Technologies, founded in 2014, has raised $37 million from venture capitalists and is currently completing a Series B round of funding worth $80 million.