High-speed trains have been part of some landscapes for decades. Japan's high-speed bullet trains traverse the country at speeds of up to 320 kilometers per hour, or about 200 miles per hour. In October 2016, a maglev (magnetic levitation) train in Japan established a world record for train travel, reaching a speed of 603 kph, or 374 mph on an experimental track in Yamanashi.
Such speeds in most of the rest of the world remain a dream. But an expected announcement could change the way people and freight move all and make those Japanese trains seem slow by comparison.
The future of transportation may well be a shuttle inside a vacuum-sealed tube, taking passengers and freight on trips of mere minutes, trips that now take several hours. That's the goal of Hyperloop One, a Los Angeles-based startup.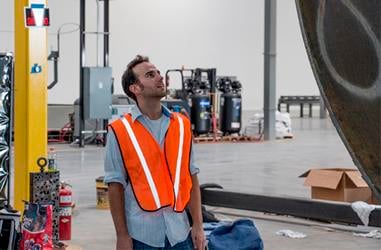 Co-founder and President John Giegel at metalworks facility in North Las Vegas.Its dream of high-speed transport is not in the clouds, but rather rooted just above ground, in tubes on test tracks that could one day move people at close to the speed of sound, or about 760 mph.
The group unveiled the first images of its DevLoop (Development Hyperloop) track in early March 2017 at the Middle East Rail conference in Dubai. The 500-meter-long, 3.3-meter-diameter track is in the Nevada desert about a half-hour from Las Vegas.
"Our team of more than 150 engineers, technicians and fabricators have been transforming … a barren stretch of desert into a hive of activity," says Josh Giegel, Hyperloop One's co-founder and president.
Hyperloop One chose the Dubai conference to highlight its progress after signing an agreement with the Dubai Roads and Transport Authority last year. The group wants to connect cities in the United Arab Emirates and also serve the Gulf Cooperation Council, comprised of the UAE along with Saudi Arabia, Bahrain, Kuwait, Oman, and Qatar.
A Radical Change?
As more companies develop their own high-speed systems (for example, Hyperloop Transportation Technologies announced plans for a research and development center in Toulouse, France, and has said it is looking at building systems in the Czech Republic and Indonesia) the push is on to see which will be first to move people and freight at supersonic speed, restructuring both global supply chains and the world's transportation industry.
Hyperloop One in Dubai provided not only photos of its Nevada test track but also renderings of what its terminals could look like in the Middle East. It was the first time the images had been shown in a public setting. Hyperloop One CEO Rob Lloyd told the rail conference: "While technology is revolutionizing many facets of our lives, we have not seen a radical change in transportation since the Wright brothers introduced air travel over 100 years ago."
Hyperloop One last year launched its Global Challenge, issuing a call for proposals from companies, governments, academics, and individuals. It received more than 2,600 entries outlining routes on which to move passengers and freight at high speed from point-to-point and on demand.
In January 2017 it announced 35 of those proposals as semifinalists, and Hyperloop One is expected to name the handful of finalists in May. The semifinalists come from 17 countries. Eleven of the proposals are from the U.S., three are from Canada, and one was from Mexico. Europe has eight semifinalists and Asia seven, including five from India.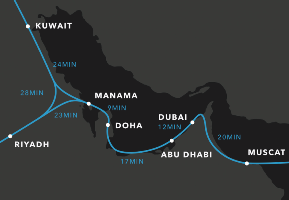 (Click to enlarge.) Possible hyperloop routes in and around the Persian Gulf States.Lloyd says the proposals being considered "are all solutions that can make a real and immediate social and economic impact." The group already has held what it called a showcase event; a late February gathering in New Delhi, India, gave invited teams the opportunity to show details of their proposals. Another event is scheduled for April 6 in Washington, D.C., with a third scheduled for April 27 in London.
"The best teams (immediately got) that the point of the Hyperloop is to provide maximum benefit in how we live and work, and how it can improve manufacturing and supply chains," says Giegel. Hyperloop One will supply the engineering expertise and technology to whichever group or groups it decides to back, working with the winners on project development and financing.
Maglev Roots
Hyperloop One's technology has its roots in maglev, or magnetic levitation, which has been used in train travel for years. The first U.S. patent for maglev was issued in 1905 to German inventor Alfred Zehden. But the first train using the technology and carrying passengers was not operated until 1979, in Hamburg, Germany. Commercial maglev systems operate today in three countries: Japan, South Korea and China.
Maglev utilizes electromagnetic propulsion, which accelerates an object using electrical current and magnetic fields. The current creates an opposing magnetic field, or it charges a field that can be repelled.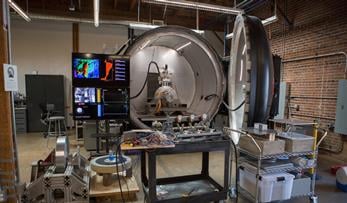 (Click to enlarge.) Hyperloop One levitation rig at its Los Angeles campus.For the Hyperloop One, vacuum-sealed pods would literally float through a metal tube using electromagnetic propulsion. The tube tracks, or guideway, would have low air pressure inside them. A linear electric induction motor would accelerate and decelerate the floating pod through the tube. Because the pod is floating, friction is eliminated, making the aerodynamically designed pod move even faster.
The system works, essentially, like a pneumatic tube only with updated technology in which the pressurized pods or capsules ride on a cushion of air, driven by the linear induction motors and air compressors.
Faster than Jets
Elon Musk, the man behind the Tesla electric car and the SpaceX private spaceflight company, in August 2013 revealed his vision for the Hyperloop transportation system as part of a discussion about high-speed rail in California.
That was a full decade after Brad Swartzwelter, an Amtrak conductor who today manages the Winter Park Express ski train in Colorado, wrote about his vision for AmericanMetro, an electromagnetic high-speed transportation system, in his book Faster Than Jets, which was published in 2003.
Swartzwelter's take was that the world has finite petroleum resources for fossil fuels. His AmericanMetro idea included what he called a "subway on steroids," underground tunnels with trains inside, suspended electromagnetically to avoid physical contact with the tracks.
"The issue with maglev has never been with its technology," Swartzwelter said in a recent interview. "It has always been simply a matter of scale. A national network of underground tunnels or above-ground tubes boils down to time and money, and it would be comparable to any public project the U.S. has ever undertaken."
Swartzwelter continues to envision a system similar to Hyperloop One, but with people and freight moving through underground tunnels, providing more security and eliminating weather disruptions.
He admits that funding and government buy-in – the same issues faced by Hyperloop One – are among the obstacles, but points to the Channel Tunnel from the United Kingdom to France as an example of a large underground project that has worked.
Ultimately, he said, "Is (a project) technologically and physically possible, and is it affordable? We have already proven the technology works and is physically possible." Some Hyperloop One engineers in 2016 talked about developing underground and underwater tunnel systems, noting enhanced safety and security as compared to other modes of travel.
Venture Capital
Hyperloop One has at least partly solved some of the financing issues involved with bringing such high-speed transportation to life. Though Musk is not involved with Hyperloop One, his idea for the system sparked the imagination of others, including Silicon Valley investor Shirvin Pishevar. Venture capital from Pishevar's own firm, along with millions from other investors, brought the concept to reality.
Hyperloop One in August 2016 announced a deal with DP World, the world's third-largest ports operator, to develop a cargo offloading system at a port in Dubai, and in October announced an investment from DP World that led a $50-million round of funding. The group also has deals to study passenger and cargo routes in the UAE, and has secured partnerships from several governments, with a goal of a fully operational system in 2020.
"Dubai makes perfect sense for Hyperloop One because this is the 21st century's global transport hub," said Pishevar. "(Dubai's) leaders understand that Hyperloop One is ushering in the next era of transportation."
The announcement of finalists in the Global Challenge is part of what Hyperloop One expects will be a frenetic year, including what the company calls its "Kitty Hawk" moment – the first full-scale test of a Hyperloop system at some point later in 2017. Officials whose areas are among the semifinalists already are promoting the system.
"Cooperation between Hyper Poland and Hyperloop One under the framework of the Hyperloop One Global Challenge will have a positive impact on the possibility for quickly implementing the system in Poland," said Jadwiga Emilewicz, the Undersecretary of State for the Polish Ministry of Economic Development.
India now has a Hyperloop India group; Sibesh Kar, a representative of that group, said the system "is a prime opportunity for the Hyperloop and for India" and that such high-speed transport is needed "to accommodate the growing transport infrastructure demands of the world's fastest-growing economy."
Among the semifinalists, the U.S. routes involve several states. Colorado leads the way with two projects among the possible finalists. These include a 40-mile route between Greeley and Denver International Airport sponsored by the Colorado Department of Transportation (CDOT), and a route from Fort Collins to Pueblo sponsored by a group known as Colorado Hyperloop.
"We hope we win," CDOT Executive Director Shailen Bhatt told reporters in Colorado. "Even if we don't win, this is something that's going to be part of the future in transportation. We'll definitely be looking at it."