Hyperloop certification center to be built in West Virginia
Peter Brown | October 13, 2020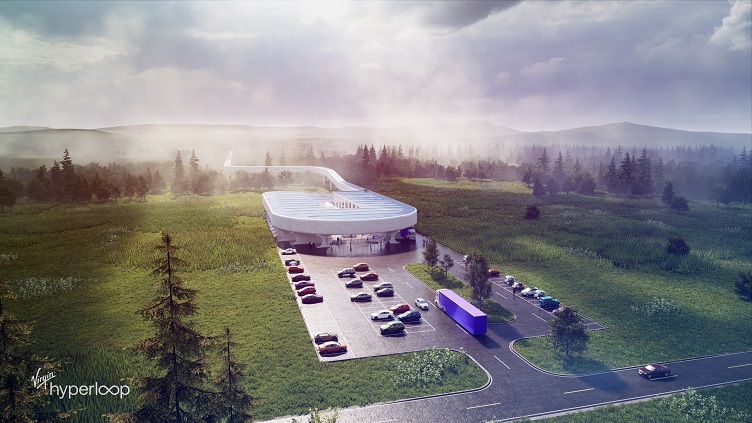 An artist's rendering of the Hyperloop Certification Center that will seek to set global sfatey and industry standards for the transporation technology. Source: Virgin Hyperloop
Virgin Hyperloop is building a Hyperloop Certification Center (HCC) that will be located in West Virginia to enable global regulatory bodies to work with U.S. federal authorities to set global safety and industry standards for the so-called fifth mode of transportation.
The HCC will work to help expedite the adoption of the hyperloop globally and pave the way for the transportation technology to receive certification for commercial projects such as the one in India that Virgin Hyperloop has been working on with the Government of Maharshtra.
"Today is one of the most exciting days in Virgin Hyperloop's history," said Sir Richard Branson, founder of the Virgin Group, in a statement. "We're one step closer to making hyperloop travel a reality for people everywhere."
Virgin Hyperloop has already built a full-scale 35 kilometer test track for hyperloop in a partnership with Saudi Arabia's Economic City Authority and this year worked with the Nontraditional and Emerging Transportation Technology Council (NETT) of the U.S. Department of Transportation in order to explore the feasibility of the hyperloop for the U.S. market.
"The significance of this milestone cannot be overstated," said Jay Walder, CEO of Virgin Hyperloop. "The establishment of the HCC enables regulatory authorities around the world to come together and establish global safety and industry standards for the new hyperloop category. This brings the hyperloop project connecting Mumbai to Pune in under 25 minutes — and others around the world — one step closer to reality."
Beyond India, Virgin Hyperloop is working with the European Commission's Directorate-General for Mobility and Transport (DGMOVE0) to carry out a study to develop a safety regulatory approach for Europe, the results of which will be used by the commission to develop the regulatory policy for hyperloop technologies. The company is also in discussions with three European regulatory authorities for potential hyperloop deployments with the European Union Agency for Railways (ERA), the European Union Aviation Safety Agency (EASA) and the European Space Agency (ESA).
Virgin Hyperloop aims to achieve safety certification by 2025 with commercial operations beginning in 2030.