Video: Virgin tests hyperloop with actual passengers
Peter Brown | November 11, 2020
Virgin Hyperloop has for the first time tested its hyperloop pod with passengers inside the pod at the company's 500 m DevLoop site in Las Vegas.
While studies are underway to test if the human body can withstand the high speeds and pressures of the hyperloop, two Virgin employees were strapped into Virgin's recently released XP-2 vehicle, which was designed by Bjarke Ingels Group and Kilo Design. The prototype XP-2 was built to demonstrate that passengers can travel safely in a hyperloop vehicle. The full-scale version of the XP-2 pod will be larger and accommodate up to 28 passengers.
"For the past few years, the Virgin Hyperloop team has been working on turning its ground breaking technology into reality," said Sir Richard Branson, founder of the Virgin Group, in a statement. "With today's successful test, we have shown that this spirit of innovation will in fact change the way people everywhere live, work, and travel in the years to come."
Josh Giegel, co-founder and CTO at Virgin, and Sara Luchian, director of passenger experience at Virgin, took a ride in what is being billed as the fifth mode of transportation. Previously, Virgin tested about 400 unoccupied hyperloop pods.
Hyperloop technology uses magnetic levitation to lift a pod off the track and guide it as it moves, creating a friction-free track. Almost all the air in the tube surrounding the pod is removed to create the same environment found at 200,000 ft above sea level. The combination of the linear motor, magnetic levitation and low-pressure tube reduces drag so that only a small amount of electricity is needed to propel the pod at speeds as high as 670 mph. This could possibly create a more cost-effective system than high-speed rail or airline transportation.
Purportedly, a hyperloop could connect cities such as Pittsburgh and Chicago in 41 minutes or New York City to Washington D.C. in just 30 minutes.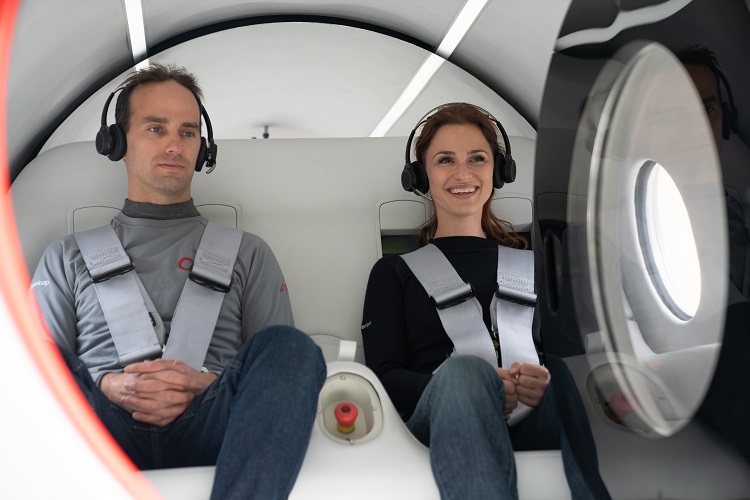 Josh Giegel and Sara Luchian, Virgin employees, prepare to ride in the hyperloop pod XP-2 in what is claimed to be the first humans to ride in the transportation system. Source: Virgin Hyperloop
Virgin has been accelerating its commitment to the hyperloop with the recently unveiled Hyperloop Certification Center (HCC), which will be based in West Virginia. The company also signed a partnership with Spirit AeroSystems.
"I can't tell you how often I get asked 'is hyperloop safe?'" said Jay Walder, CEO of Virgin Hyperloop. "With today's passenger testing, we have successfully answered this question, demonstrating that not only can Virgin Hyperloop safely put a person in a pod in a vacuum environment, but that the company has a thoughtful approach to safety which has been validated by an independent third party."
There were no details about how fast the hyperloop was traveling while the passengers were in the pod or how far the passengers traveled during the trip.
Progress accelerating
Virgin Hyperloop is not the only company developing hyperloop technology. Numerous universities and startups are working on the technology including Hyperloop TT, Magway, TransPod and SpaceX has been working with academies to test and develop hyperloop technologies for future deployment.
In July, the House of Representatives passed the Moving Forward Act that would authorize the Nontraditional and Emerging Transportation Technology Council (NETT) of the Department of Transportation to provide "guidance for a clear regulatory framework for the safe deployment of hyperloop transportation."
The guidance would include insight into public safety; sponsors for projects, plans and proposals; establish procedures for regulating hyperloop transportation projects; and develop processes and best practices for resolving hyperloop transportation matters.