Furthering nuclear fuel performance with machine learning
S. Himmelstein | May 24, 2022
Researchers from U.S. Idaho National Laboratory and the University of Idaho have applied machine learning to characterizing the microstructure of uranium-zirconium fuel, a metallic nuclear fuel poised to emerge as the choice option for next-generation reactor designs. The data collected will be used to strengthen performance predictions for this fuel, which offers the benefits of a simplified manufacturing process and increased fuel burnup.
A data-driven machine learning approach was combined with domain knowledge provided by advanced post irradiation examination to examine the formation and behavior of the gas bubbles formed by uranium-zirconium fuel. These fission bubbles can induce microstructural changes that limit the ability of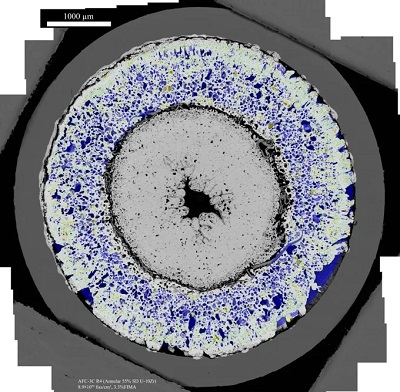 Scanning electron microscopy image of a metallic fuel with advanced geometry showing extensive microstructure reorganization due to irradiation. Source: U.S. Idaho National Laboratory fuel to transfer heat to the reactor coolant, thereby reducing efficiency.
A comprehensive dataset with high-resolution images of fuel cross-sections and manual annotations of fission gas bubbles was first developed, followed by implementation of a machine learning algorithm to predict the category of each bubble using quantitative image features including bubble size, shape and appearance. The data generated will advance understanding of fuel performance dynamics, such as how the distribution of microstructures evolve as thermal conductivity decreases over time.
The research published in Materials Characterization confirms fuel thermal conductivity degradation due to extensive pore structure and an increase of connected pores in hotter regions of the fuel.