Video: 3D analysis could improve nuclear fuel design
S. Himmelstein | February 05, 2021
A new method for the development of an internal, 3D view of nuclear fuel provides insights into material changes during fission inside a nuclear reactor and could lead to more cost-effective and efficient fuel structures.
The characterization process devised by researchers from Purdue University, U.S. Argonne National Laboratory, U.S. Los Alamos National Laboratory and U.S. Idaho National Laboratory was applied to a sample of uranium-zirconium fuel that spent a total of two years at full power in the Fast Flux Test Facility in Hanford, Washington, and was removed from the reactor in the early 1990s. The tiny sample measured less than a quarter of an inch high but possessed a radiation level 240 times larger than allowable limits.
A focused ion beam with scanning electron microscopy was used to create a much smaller sample, roughly 100 microns across, with reduced radioactivity. Encased in a double-walled tube, the fuel sample was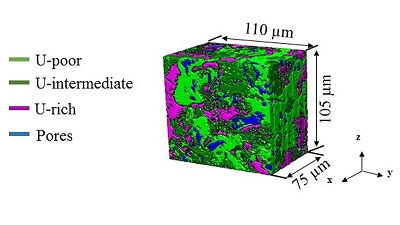 3D image reconstruction of an irradiated fuel sample, shows different uranium phases co-existing with pores. Source: Maria Okuniewski/Purdue Universitysubjected to a high-brilliance X-ray source. Synchrotron X-ray micro-computed tomography was then used to detect at high resolution the X-ray beam as it emerged on the other side of the sample. Computers analyzed multiple images taken as the fuel was rotated to reconstruct internal features based on how it altered the incoming beam.
The result was a clear, localized picture of the fuel structure and the different material phases that evolved over time. The researchers determined that fission gas release might continue beyond the thresholds assumed in previous analyses, and observed nucleation, growth, coalescence, interconnected porosity and extended/interconnected porosity growth stages of pore evolution.
The findings can help strengthen fuel performance codes, which in turn would help lower the cost of fuel development, since reliable computer simulations can minimize the number of expensive irradiation tests needed.
The research is published in the Journal of Nuclear Materials.