Video: A portable approach to seawater desalination
S. Himmelstein | June 06, 2022
A prototype water purifier that can convert seawater into drinking water and consume only 20 Wh/liter has been engineered for off-grid, small-scale desalination use in resource-limited areas.
Designed to be operated by non-experts, the suitcase-sized, 10 kg prototype has a single button to initiate desalination and purification, plus notification to indicate when salinity and particle count are acceptable for drinking. It has been demonstrated to produce potable water directly from the sea at 0.3 liter/hour without the need for filters or high-pressure pumps. The device requires less power to operate than a cell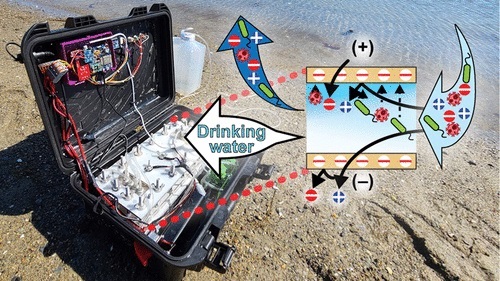 The portable desalination unit automatically removes particles and salts simultaneously to generate drinking water. Source: Environ. Sci. Technol. 2022 doi.org/10.1021/acs.est.1c08466 phone charge and can also be driven by a small, portable solar panel.
The system designed by researchers from MIT, Northeastern University and U.S. Army Combat Capabilities Development Command relies on multiple stages of ion concentration polarization, a process that applies an electrical field to membranes above and below a channel of flowing water, followed by electrodialysis to reduce residual salt concentration. The membranes repel positively or negatively charged particles — including salt molecules, bacteria and viruses, according to the university. These attracted charged particles are directed into a wastewater stream for discharge.
As reported in Environmental Science and Technology, water with 2.5 g/liter to 45 g/liter of salt (brackish to seawater) can be turned into World Heath Organization-grade drinking water at power consumption levels of 0.4 Wh/liter to 26.6 Wh/liter.