Video: James Webb Telescope now in focus
S. Himmelstein | May 02, 2022
The James Webb Space Telescope is ready to observe the universe. The space observatory's massive mirror, capable of peering into the most distant reaches of space, is now completely aligned, according to the NASA Webb team.
The milestone, which NASA showcased with some new Webb images, allows the mission team to proceed with science instrument commissioning. The telescope will now enter a new phase of preparation after several months of mirror and instrument alignments. This next step will take roughly two months, with Webb remaining on track to finish in June if everything goes to plan.
A joint project between NASA, the European Space Agency and the Canadian Space Agency, Webb is the largest, most powerful telescope ever launched into space. The observatory will travel to an orbit about one million miles away from Earth and undergo six months of commissioning in space — unfolding its mirrors, sunshield and other smaller systems; cooling down; aligning; and calibrating. Astronomers worldwide will then be able to conduct scientific observations to broaden our understanding of the universe.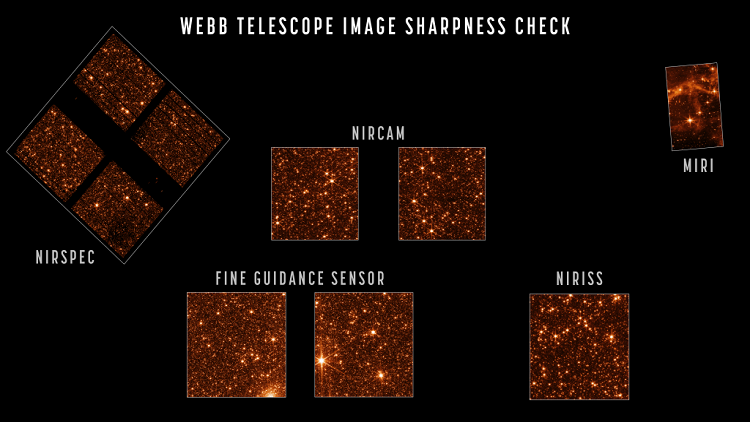 The onboard instruments are now aligned and capable of capturing in-focus images. Source: NASA/Space Telescope Science Institute
About 30 minutes after launch from French Guiana on December 25, 2021, the telescope unfolded its solar array, and mission managers confirmed that the system was providing power to the observatory.