First cables to earn Class 4 certification from UL
Engineering360 News Desk | May 04, 2022
Digital Electricity (DE) cables from Belden have earned the industry's first Class 4 certification from UL. These cables can support safe and efficient emerging digital power technologies as buildings become more intelligent.
The new Class 4 standard is dedicated to fault-managed power systems, which offer the convenience and safety of low-voltage power, like power over Ethernet (PoE), which delivers up to 100 W. Class 4 denotes close to 20 times the power of PoE over hundreds of meters, offering a safe alternative to AC.
Fault-managed power systems, also referred to as packet energy transfer (PET), DE, pulsed power or smart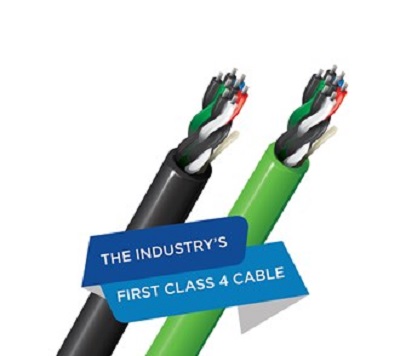 Source: Belden transfer systems, offer a cost-effective alternative to AC power and provide power and data in a single run, saving valuable installation time. Similar to PoE, DE cables can be installed by the same low-voltage integrators that install category cabling. DE cables are a complement to PoE applications, powering PoE switches that power devices like lighting, wireless access points and small cells using standard Ethernet connections.
Class 4 systems are designed with safety at the forefront. Instead of limiting power source output, they limit energy and power available during a fault event. If someone accidentally touches exposed wires or splashes water onto circuits during operation, the system immediately and automatically shuts off before causing harm. To limit fault energy, a transmitter and receiver monitor for faults and control power delivery. This technology makes Class 4 systems just as safe — if not safer — than Class 2 and Class 3 systems.
The DE cables are available in copper-only and hybrid copper/fiber constructions to transmit power and data over long distances in a single cable run.