Twisted pair cables offer increased data, power and distance combinations
Engineering360 News Desk | February 22, 2021
A new family of 21 American wire gauge (AWG) utility Twisted Pair (uTP) cables has been unveiled by Remee Wire & Cable as part of its Activate by Remee Powered Cable Solutions. This uTP cable innovation is a twisted pair power cable that allows for data and power to run over longer distances than any other twisted pair cable.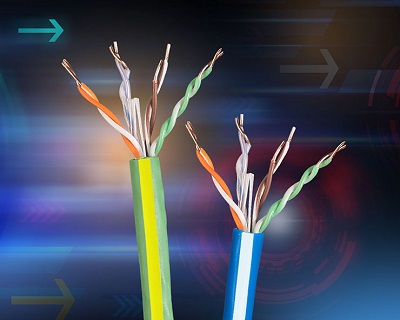 Source: Remee Wire & Cable The Activate by Remee uTP cable is 100 Ω, RJ45 compatible and can be used for network appliances that require data and power to be delivered to locations that fall outside of the traditional Ethernet ring topology. This encompasses many more potential applications than power over Ethernet (PoE) or powered cables can provide, such as:
Cameras
Thermostats
PoE Lighting
PoE Type 1, 2, 3 and 4 devices in the internet of things
Industrial factory floor
Key features of this new line of uTP cables include:
Riser, plenum, outside plant and low smoke zero halogen versions
Utilizes 21 AWG copper to reduce performance issues caused by heat
Enhanced "headroom" allows for useable bandwidth up to 1Gb/s at extended distances
Ultra-low loss, high speed dielectric
Supports building automation and intelligent buildings networked devices at distances well beyond the EIA/TIA standards for (Ethernet) Category cabling
Ideal for perimeter range security cameras
Maximizes the use of available switch ports
Reduces the need for unnecessary intermediate distribution points
A new bandwidth/power optimization chart is also available to assist in planning the installations and power requirements of networked devices. System designers will be able to determine where PoE is an option, what data rate can be expected at the powered device and where costs may be reduced by eliminating mid-span power boosters. The tool factors in the bandwidth and speed requirements of the data cable along with the power requirements of the cable run to determine the appropriate power distance (in feet) of various copper gauge sizes.