High capacity cordless blind riveter for the sheet metal toolbox
Engineering360 News Desk | March 01, 2022
The higher capacity PT-4500 cordless blind riveter, available from Fastening Systems International Inc. (FSI), offers the sheet metal technician the capability for installation of most all 1/4 inch diameter blind rivets.
The standard PT-4500 pulling head assembly (jaws, jaw holder and nose tube) is interchangeable with any of the FSI riveters (D-100, D-180, D-700C, PT-100, PT-3000 and PT-4000), offering redundancy and reduced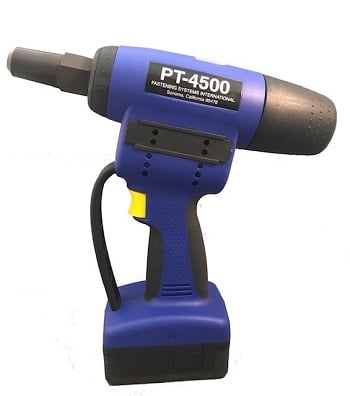 Source: FSI spare parts inventory levels.
Both aerospace and industrial quality blind rivets are installable with the PT-4500, which include but are not limited to CherryMax (M7885), nut-plate rivets, self-plugging rivets (MS20600), CherryMax "A" (NAS1400A), Avdel MBC (NAS1722L), Avdel Interlock and Huck Magna-Lok (M7885/10), Avdel Monobolts, Avdel Avex and standard Pop type rivets (MIL-R24243). The kit includes special patented rotating adapters for CherryMax and Olympic-Lok pulling heads.
In addition, a wide variety of nosepieces are available to satisfy specific customer needs. The riveter is powered by a slide-on 18 V DC lithium-ion battery pack with fuel gauge. The PT-4500 brushless motor drives a mechanical ball screw gear system that provides capability for the most demanding applications. With the rapid extended stroke capability, the tool is comparable to most all air-operated riveters, thereby optimizing cycle time between any blind rivet installation.