Introducing the QF5k – The new multiple-use, four-piston diaphragm pump from Quattroflow
Diana Aoun | December 29, 2021
Quattroflow Fluid System has recently revealed the latest offering from its Quaternary (four-piston) diaphragm pump range. The next generation QF5k introduces improvements to critical functionality typically demanded by the biopharma industry.
The new QF5k features a patented valve plate design that facilitates self-draining and venting. The pump boasts a turndown ratio of up to 120:1, as well as improved linear flow performance and high flow stability across its entire flow range. The QF5k also features clean-in-place/steaming-in-place capability and autoclavability. The self-draining design minimizes the volume of non-recoverable product, while the enhanced venting mechanism reduces the minimum flow rate required to remove entrapped air during priming.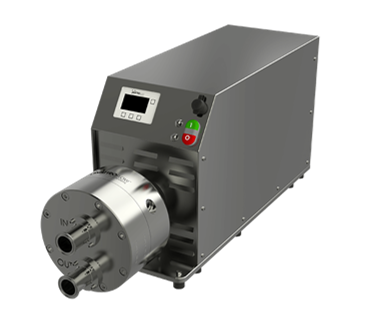 Source: Quattroflow
The Quattroflow QF5k has been designed to achieve a flow rate between 50 to 6,000 lph (13 to 1585 US gph) and between 1 to 16,000 lph (0.26 to 4227 US gph) with multi-use pump sizes. Quattroflow multiple-use pumps can therefore meet the needs of applications ranging from small R&D projects to full-scale manufacturing environments.
The QF5k is available in several drive versions including an AC version with 3-phase asynchronous motor, a compact drive version with a minimal footprint due to "pump next to motor" design, a high trajectory drive plug-and-play version with integrated motor controller and keypad, and the Q-Control version with integrated pump controller with direct sensor connection.
The motor flange design reduces pump noise and simplifies coupling alignment with diaphragm monitoring available as option. Typical applications include chromatography, tangential flow filtration, virus filtration, sterile filtration, depth filtration and more.