The new QF2500HT Quaternary diaphragm pumps by Quattroflow – All parts combined into one compact package
Diana Aoun | April 28, 2021
Quattroflow has extended its HT product line of Quaternary (four-piston) diaphragm pumps with the new QF2500HT. While the latest model shares several features with the standard QF2500 pump, Quattroflow has integrated the pump chamber, pump drive, motor and control box into one unit. This eliminates the need for a separate control box, resulting in a more compact design for easier handling.
Adding to the impressive one-unit design, the QF2500HT features an extended turndown ratio for a wider range of flowrates than that offered with the QF2500. The pump has high accuracy flowrate control and high flow stability even at low flow rates. The QF2500HT also features a keypad for manual control and display of motor speed. With only one power cable, installation and start-up are made easy.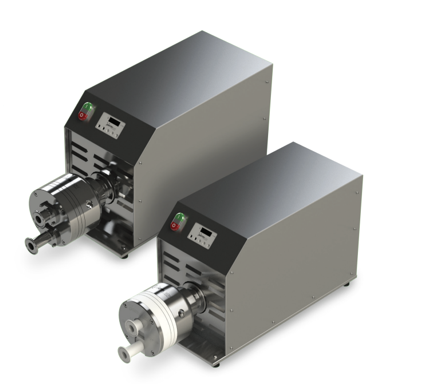 Source: PSG Dover - Qattroflow
The new QF2500HT is available as a multiple-use unit (pump chamber SS316L) and single-use unit (machined polypropylene) depending on the specific biopharmaceutical manufacturing application. The pump also features a self-draining design as well as clean-in-place/steam-in-place (CIP/SIP) capability and autoclavable for multiple-use models.
The QF2500HT is also available in a Q-control version for applications requiring additional automated control functions. The Q-control version integrates Quattroflow's new smart control system, which has built-in smart control functions that do not require an external PLC.
The new pump has a maximum flow rate of 2,500 L/hour (660 gal/hour) and can handle temperatures of up to 80° C (176° F) in the multiple-use model and 60° C (140° F) in the single-use model.
The QF2500HT is suitable for demanding biopharmaceutical applications and has been specially designed with a pump chamber that facilitates drainability and maximizes product recovery. The new pump is ideal for applications including chromatography, TFF, virus filtration, sterile filtration and depth filtration.