Video: Electric hydrofoiling ferry is battery-powered
S. Himmelstein | November 11, 2021
California-based marine technology startup Boundary Layer Technologies has revealed its concept design for a fully electric hydrofoiling ferry. Powered by a 9,000 kWh battery, the ELECTRA has a range of up to 100 nautical miles and cruise speed of 40 knots, double that of existing electric ferries.
Increased range and zero wake are attributed to the proprietary hydrofoil technology and podded propulsion system, which serve to reduce the drag of the vessel by half. Compared to fossil fuel-powered alternatives propelling conventional ferries, the battery-electric propulsion system designed for ELECTRA significantly reduces cabin noise by up to 20 dB and reduces operating expenses by up to 35%. Based on a 2400 kW charging system, a full charge could be achieved in less than three hours.
ELECTRA is designed to operate comfortably in the majority of coastal wave environments with seasonal winter peak wave heights of 1.3 m and peak periods of six seconds or greater. Larger waves can be accommodated by increasing the draft of the foils and propellers.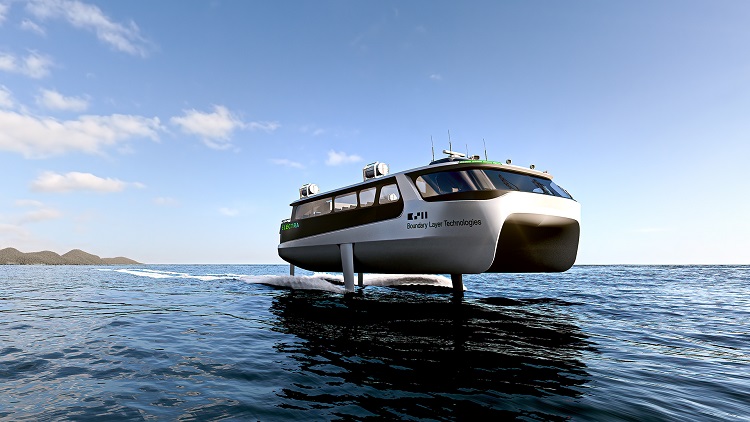 Source: Boundary Layer Technologies
Designs have been finalized for the hydrofoil and control systems required for ELECTRA, and the first vessels are expected to start operations in the U.S. and Europe in 2024.