Electric Propulsion for Cleaner Shipping
Morand Fachot, Communications Officer, International Electrotechnical Commission | May 17, 2016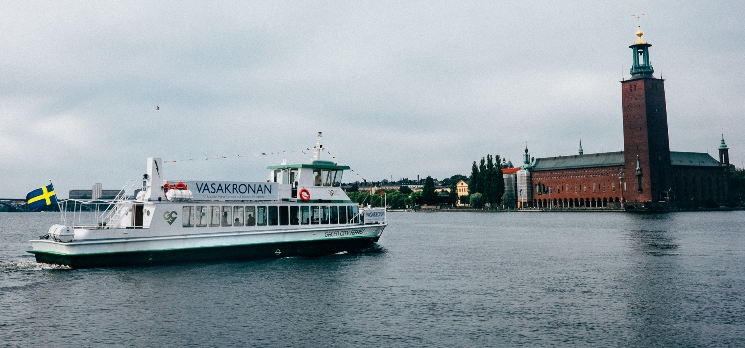 Movitz ferry in Stockholm, Sweden. Image source: Green City Ferries
Electric propulsion has been used on waterways since the 1880s, where it is primarily installed in small boats transporting a limited number of passengers on rivers or lakes. Outperformed on water and on land in the early 20th century by more efficient internal combustion engines with their longer range, electric propulsion is now making a comeback on waterways. A number of IEC Technical Committees (TCs) and Subcommittees (SCs) develop International Standards that provide essential support for this renewal.
Environmental Concerns Push Electrification
Environmental concerns are on the agenda for many shipping companies, in common with other industries. In a variety of countries, they are being met by electrifying various aspects of the shipping infrastructure. For the main part they have so far been limited to shore installations such as the supply of high and low voltage (HV and LV) power to moored ships to allow them to cut down on emissions in ports from their onboard diesel generators.
The global adoption of High Voltage Shore Connection (HVSC) has been possible since 2012 through the publication of IEC/ISO/IEEE 80005-1:2012, Utility connections in port – Part 1: High Voltage Shore Connection (HVSC) Systems – General requirements. This triple logo International Standard was developed by IEC TC 18: Electrical installations of ships and of mobile and fixed offshore units, in cooperation with IEC SC 23H: Industrial plugs and socket-outlets, together with an SC of the International Organization for Standardization TC 8: Ships and marine technology, ISO/TC 8/SC 3: Piping and machinery, and with the IAS Petroleum and Chemical Industry Committee (PCIC) of the Institute of Electrical and Electronics Engineers (IEEE).
IEC TC 18 has also developed a Publicly Available Specification, PAS 80005-3:2014, for LV shore connections. However, further steps are still needed to clean up the industry and to meet increasingly stringent regulations for inland waterways and harbors. This can be achieved if full electric propulsion is adopted. What was once an unrealistic proposition is now possible and is slowly being introduced.
The Known Unknowns
Marine diesel (including diesel-electric) engines have major drawbacks; foremost among them is that they are harmful to health.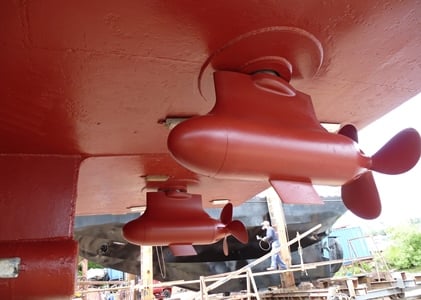 The two 125 kW drives powering Movitz use a submerged permanent magnet electrical motor enclosed in a watertight pod. No additional gearboxes or cooling are needed, the propeller is directly driven from the pod motor. Maintenance is reduced to a minimum. The whole driveline of a 125 kW pod installation weighs only 330 kg. Image source: Maritime JournalThe European Environment Agency estimates that 432 000 people in 40 European countries died prematurely in 2012 due to high concentrations of particulate matter (PM) in the atmosphere, while another 75 000 died from long-term exposure to nitrogen oxide (NOx). Diesel engines are seen as significant contributors to PM and NOx emissions and they also produce CO2. Shipping contributes to these disturbing statistics, although it is impossible to estimate the exact level of its responsibility.
The financial cost of transporting and processing oil products in order to fuel ships needs also to be taken into account.
Concrete examples are now available demonstrating the hidden costs of diesel propulsion for small inland waterways shipping, thanks to in-depth research carried out by Sweden-based Echandia Marine.
According to this company, which bases its estimates on the relative costs of diesel and electricity in a number of European countries, as well as on the costs to society, electric propulsion presents major benefits once the playing field has been levelled to take into account negative factors.
Giving as an example the Djurgården ferry, which is part of the Stockholm Public Transportation network, Hans Thornell, naval architect and founder of Green City Ferries, told participants to the IDTechEx Printed Electronics Europe 2016 event: "this little fellow emits 5 tonnes of nitrogen oxide (NOx) and 75 kg of particulate matter (PM) per year, at a cost to society of EUR 4 and EUR 1 310 per kg, respectively, according to the Swedish Transport Authority."
As a result, Thornell said, the total cost to society is EUR 120 000 per year, or one euro per litre of diesel, yet Swedish ship operators pay about 40 euro cents per litre of diesel.
In short, this means that society is subsidizing ship operators to pollute.
To demonstrate the technical and economic viability of operating an electric ferry, Green City Ferries have acquired a 75-foot diesel-powered ferry, Movitz, with a grant from the Swedish Energy Agency. The boat, which can carry 100 passengers, was retrofitted with two 125 kW electric motors, advanced batteries and an innovative supercharging system.
Citing an energy efficiency of 85-90 % when running fully electrically, against a 30-35 % efficiency for a diesel engine, Echandia Marine claims that going electric will drastically reduce operating costs.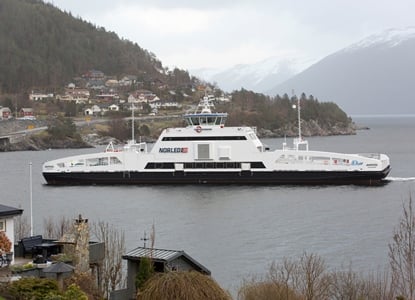 With its 80m length and 20m width, the Ampere ferry transports up to 120 cars and 360 passengers. It is made of aluminium rather than steel. This makes it roughly half as heavy as a conventional ferry. Image source: Siemens AGComparing yearly operating costs for an ordinary ferry operating 3 000 hours a year, the consumption would be around 95 000 litres of diesel, if using diesel, and some 294 MWh of electricity, if operating on electricity alone. Taking into account the differing prices of diesel and electricity in seven European countries, Echandia Marine estimates that savings in operating costs alone (cost of diesel and maintenance costs vs. cost of electricity plus depreciation on batteries) would be between 50% in Italy (or some EUR 33 800) and 65% in Sweden (or EUR 45 500).
The maintenance costs for an electric ferry would also be lower since electric drives have fewer moving parts and so require less maintenance.
Furthermore, emission levels for the diesel/electric ferries would be respectively:
CO2 for diesel: 260 tonnes; for electricity: 0 tonnes
NOx for diesel: 2,6 tonnes; for electricity: 0 tonnes
PM for diesel: 115 kg; for electricity: 0 kg
In addition to the savings realized by operators, running electric ferries would provide society with much cleaner air.
Technological Challenges
Until fairly recently, the operation of electric boats was restricted due to the limitations of battery technology (reliant on lead-acid batteries in the past), the power available and the time it took to charge batteries. This is changing rapidly with the availability of new generations of batteries with different chemistries and advanced charging systems.
International Standards for secondary batteries are developed by IEC TC 21: Secondary cells and batteries, "irrespective of type or application. The requirements cover all aspects depending on the battery technology such as: safety installation principles, performance, battery system aspects, dimensions, labelling. All electrochemical systems are considered."
The retrofitted Movitz uses extremely super-advanced Nilar nickel-metal-hydrid (NiMH) 180 kWh batteries, which deliver high power instantly and can be charged extremely quickly from a 300kW charging station (to be upgraded to 600kW). The batteries have a tailor-made battery management system (BMS) and a guaranteed minimum life of 5-7 years or 25 000 charging cycles. The ferry can be charged in 10 minutes and run for an hour. There are plans to introduce inductive charging which would allow batteries to be charged in 2-3 minutes during stops.
Another interesting example is offered by Ampere, the first electrically-powered car ferry that started operating a regular route in Norway in May 2015. Capable of transporting up to 120 cars and 360 passengers, Ampere crosses a 6 km stretch of water 34 times a day in Sognefjord, north of Bergen.
The vessel's two 450kW electric motors are powered by lithium-ion batteries with an overall output of 1 000kWh and a weight of 10 tonnes.
The batteries are charged in 10 minutes from a 260 kWh lithium-ion battery pack installed at each pier and acting as a buffer power source, since the local power grid is only designed to supply electricity to small villages and so is relatively weak. The buffer batteries are then slowly recharged while the ship is crossing and the ship's batteries are recharged directly with hydropower from the grid at night after the ferry stops operating.
A conventional ferry travelling the same route would burn a million litres of diesel fuel each year, emitting nearly 2 700 tonnes of CO2 and 40 tonnes of NOx in the process.
Standardization work by IEC TC 18: Electrical installations of ships and of mobile and fixed offshore units, and IEC SC 18A: Electric cables for ships and mobile and fixed offshore units, is central to the further development of electric power for ships.
Other IEC TCs and SCs playing an important role in flagship vessels like Ampere and Movitz include IEC TC 2: Rotating machinery, which develops International Standards for the type of machinery used in electric motors.
Ampere is also fitted with further systems designed to optimize energy consumption. They include LED lighting, solar photovoltaic panels and a heating, ventilation and air conditioning (HVAC) system using a waste heat recovery system.
International Standards for LED lighting are prepared by IEC TC 34: Lamps and related equipment, and its SCs. Solar PV energy systems are developed by IEC TC 82.
The performance and safety aspects of HVAC systems are ensured by the SCs of IEC TC 59: Performance of household and similar electrical appliances, and IEC TC 61: Safety of household and similar electrical appliances, which develop the relevant International Standards.
Public Policy
National and local authorities are weighing in to force transport operators on land, water and in the air to clean up their acts. This applies initially to diesel vehicles, but traffic on inland waterways is likely to be next in line.
Public tenders for ferry lines in Norway stipulate emission-free technology whenever possible.
The future propulsion systems of ships will be different, but are set to include a greater share of electric power in the overall energy mix, including hybrid diesel electric or combined gas and steam turbine, driving an electrical propulsion system, in addition to full electric.
Norway, with more than 100 ferry lines for short routes, is likely to adopt more full electric or hybrid electric vessels in years to come. This assessment was confirmed by Remi Eriksen, CEO of Norway-based international certification body and classification society DNV GL, who estimated in 2014 that "short sea shipping will see much more use of batteries in the next 10 years."