Danish Ferry to Sail with New Marine Battery System
S. Himmelstein | May 16, 2017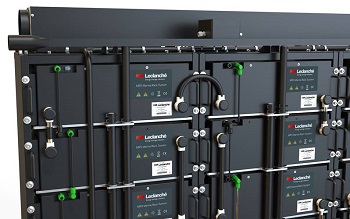 Image credit: Leclanché
Swiss energy storage solution company Leclanché SA has launched its new Marine Rack System (MRS), a modular lithium-ion battery system, the first of its type approved by international certification body DNV-GL under revised rules issued in October 2015.
The Leclanché MRS will be used on the E-ferry in Denmark, the world's largest 100 percent electric ferry by battery capacity, equipped with a 4.3 MWh Leclanché lithium-ion battery and scheduled for launch later this year. The MRS is scalable in size and capacity, rated to 1,000 V, liquid-cooled and available with both water mist- and foam-based fire suppression systems.
The E-ferry will sail between the island Aeroe (Ærø) and the mainland. The emission-free passenger and car ferry will be able to sail a record 60 nautical miles (110 km) on a single charge. The E-ferry is an EU Horizon 2020 project, the EU's €77 billion transport and energy research and innovation program from 2014 to 2020.
In Scandinavia, nearly 200 ferry routes can be converted to electric operation within the next decade; Europe-wide over 1,000 ferries could be converted. The Leclanché MRS could also be used in other marine applications, including hybridization and peak shaving of auxiliary loads of cargo vessels and cruise ships.