Efficient Scrub Water Treatment for Hybrid Ferries
S. Himmelstein | June 21, 2017
Two new hybrid ferries operated by Scandlines in Denmark use a system that cleans scrub water from the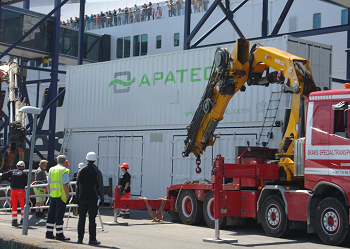 Installation of the treatment containers for Scandlines at the port of Gedser, Denmark. (Source: APATEQ)vessels' closed-loop exhaust gas cleaner. The scrubbers, supplied by APATEQ (Luxembourg), use a mixture of water and the powder form of sodium carbonate to process the exhaust gas.
Contaminated water from the scrubber is channelled to an onboard separator for purification. When the solution cannot absorb more waste products, the scrub water is pumped to the shore-based scrub water treatment system.
The system has been installed in two containers stacked one on top of the other at the harbor in Gedser, Denmark. In a five-step process, the treatment system cleans the scrub water to the extent that it can be discharged into the harbor.
By operating the onshore system, Scandlines may save expensive water disposal costs for hauling the scrub water to the nearest industrial wastewater treatment facility.
The hybrid ferry propulsion system combines traditional fuel with electric battery power. The fuel consumption has been reduced to almost one-third per crossing per car.