Fuel cells cut wellhead methane emissions
S. Himmelstein | August 23, 2021
A new fuel cell family from Advent Technologies Holdings Inc. has been engineered to provide reliable power for oil and gas industry wellhead operations while reducing methane emissions.
The Advent M-ZERØ products are designed to generate power in remote environments and to lower methane emissions to effectively zero as these fuel cells replace methane polluting pneumatic injection technology. Remote wellheads have conventionally relied on pneumatic injection of methanol, a process that vents approximately six tons of methane per wellhead per year.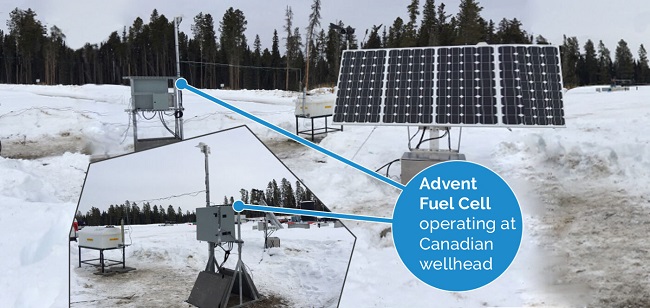 Advent Technologies Holdings Inc.
M-ZERØ is fueled by technical grade methanol, which is widely available at many wellheads, where it is commonly used as an anti-freeze. The reformed methanol fuel cells are available in 50 W and 150 W models, and systems with power levels up to 400 W will be introduced by the end of 2022. The power units operate throughout the year, including during the winter when temperatures can drop to -40° C at many Canadian sites, and only need to be refueled as infrequently as once a year.
M-ZERØ will initially be featured mainly in Canada and the U.S. with the aim of providing remote power to up to 185,000 oil and gas wellheads.