World's largest solar battery nears completion
S. Himmelstein | August 20, 2021
The world's largest solar battery is nearing completion in Manatee County, Florida. The first battery modules for the Manatee Energy Storage Center have been installed on the 40 acre site by the Florida Power and Light Company.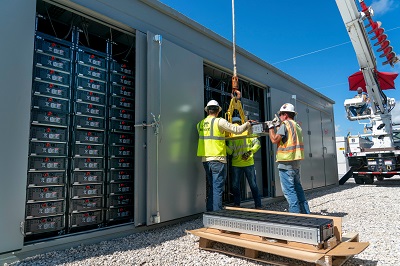 Source: Florida Power and Light CompanyNow 75% finished with 100 out of 132 containers installed and all 132 of the project's inverters set, the system is expected to be operational by the end of 2021 and replace the utility's coal-fired plants. Each container in the 409 MW capacity facility will hold 400 battery modules. The Manatee Energy Storage Center has the capacity to deliver 900 MWh of energy, sufficient to power 329,000 homes for more than two hours.
Earlier this year, Florida Power and Light decommissioned its last coal-based plant in the state. The utility plans to install an additional 700 MW of battery storage, the equivalent of powering 140,000 homes or charging more than 400,000 electric vehicles, by 2030.