The new Lowara Smart Pump range offers power, smarts and performance
Diana Aoun | August 24, 2021
The new Smart Pump range by Lowara (a Xylem brand) features permanent magnet motors with embedded drive and high-efficiency hydraulics. The range is easy to install and commission in new or existing applications thanks to its plug and play design and standard connectivity. Each Smart Pump is equipped with a permanent magnet motor that meets the latest IEC standards – the IE5 class known as Ultra-Premium Efficiency. The new series offers flexibility, precision operation and is extremely compact.
The smart, integrated drive (e-SM) is easy to set-up and can operate single, twin or three-pump systems, without the need for an external control panel or PLC. The e-SM matches performance to demand, reducing energy use and extends the working area of the pump for maximize flexibility. With a reduced footprint of up to 14% compared to its predecessor, the new Smart Pump range is suitable for tight spaces.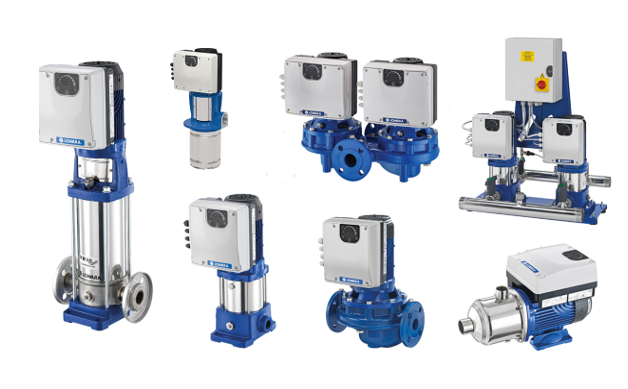 Source: Xylem
The Lowara Smart Pump range features advanced controls, safety features and monitoring capabilities. Control modes include constant pressure control, system-curve matching, and control according to external signals. Safety functions include pump stopping at zero demand and against dry running, with failure and over-temperature sensors included for both the inverter and motor to protect the pump and motor from voltage fluctuations.
Harmonic and electromagnetic filters have also been integrated into the design of the Smart Pump range. Each Smart Pump comes with a built-in total harmonic distortion current-active filter which dramatically cuts harmonic interference to less than 5%. Each pump also comes with an embedded electromagnetic compatibility filter which minimizes the transfer of electromagnetic noise between the drive and power supply mains.
The Smart Pump range features a wide selection of pump and drive combinations including compact vertical multistage pumps and booster sets to suit a range of applications and system requirements. The range is especially suitable for water supply systems in residential buildings, air conditioning, water treatment plants and industrial installations.