Goulds Smart Pump Range – A turnkey package promising massive energy savings
Diana Aoun | February 23, 2021
Goulds Water Technology (a Xylem brand) has launched its Smart Pump Range that promises efficiency, power and performance in one package. The new range is an extension of Goulds' existing e-SV and e-HM pump series, which now come with an attached smart motor.
Xylem states that its new range is "designed to maximize efficiency, optimize pump performance and communicate with other building systems in a simple to use product." The Xylem Smart Motor is an "ultra-premium" IE5 permanent magnet motor with built-in protection controls and monitoring. This enables users to optimize pump operation and produce energy savings of up to 70% (in comparison to fixed-speed drives). An IE5 efficiency rating is the top efficiency level for motors designed to operate directly online.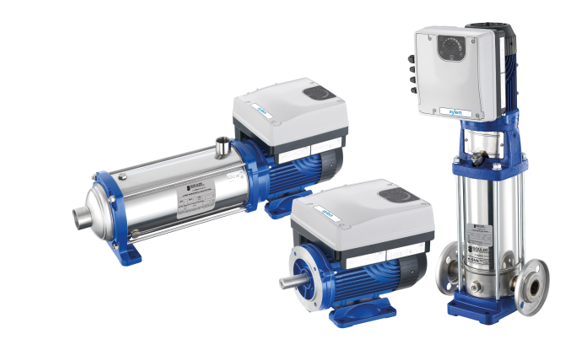 Source: Goulds Water Technology
The e-SVE and e-HME Smart Pump Ranges come in pre-assembled, pre-programmed packages, providing easy, cost-effective installation that requires no configuration. Coupled with the multistage e-SV or e-HM pumps, the Xylem Smart Motor can operate single or multi-pump systems of up to three pumps without the need for an external panel or PLC. The Xylem Smart Motor significantly extends the working area of the pump to maximize operational flexibility and enhance system performance.
The Smart Motor has been intelligently designed to manage water delivery in boosting and transfer applications at the required pressure and flow. Pump protection and monitoring features include automatic pump shutdown in no flow, broken pipe and dry run situations and auto smart cycle change of lead and lag pump units. Standard controls include constant pressure, system curve match and external signal. Steady pump operation in partial loads help to prevent water hammer and accurate speed control reduces mechanical stress and wear.
For both models, the pumps feature stainless steel casing and inner components for minimal noise levels and long service life. They are both certified to the NSF/ANSI 61 Drinking Water System Components standard to deliver safe, quality drinking water, and are NEMA 3R rated for outdoor installation. The Smart Pump Range is suitable for a suite of applications including residential water supply, industrial, agriculture, water boosting, HVAC and more.