Griswold introduces its first self-priming centrifugal pump series
Diana Aoun | August 24, 2021
Centrifugal pump specialist Griswold, has revealed the latest addition to its range of chemical process centrifugal pumps — the 811SP series — expanding its portfolio into self-priming applications. The new pumps are designed to enable interchangeability with common components from the Griswold 811 ANSI series. The 811SP Series pumps are available in various sizes, flowrates and materials, and come with a large selection of options to suit a wide range of applications.
The 811SP has been designed with integrated ductile iron frame adapters that accurately align the pump's liquid end to the power end, thus increasing durability and safety. Griswold has maximized oil capacity with an extra-large capacity powder-coated oil sump for improved heat transfer and extended bearing life. The external clearance adjustment of the pump enables flowrate, pressure and efficiency to be maintained.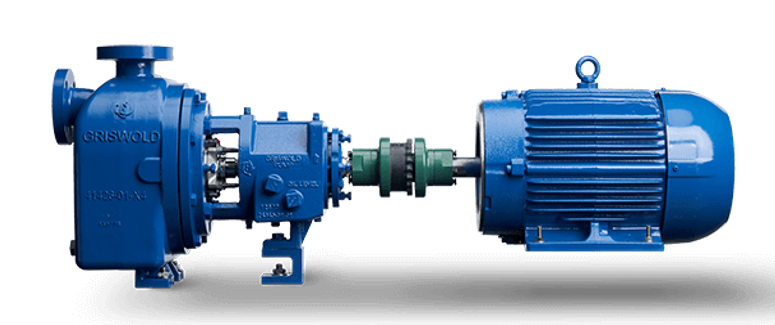 Source: Griswold
Other notable features of the 811SP include heavy-duty shafts and bearings to minimize vibration and shaft deflection, as well as extensive sealing options to maximize uptime. To facilitate maintenance and inspections, the 811SP comes with an oversized sight glass for quick and easy monitoring of oil level and condition, as well as a magnetic drain plug to collect contaminants and protect the pump. The unique open impeller (with rear-adjustment capability) and seal chambers facilitate enhanced corrosive and abrasive substance transport, heat regulation and faster routine maintenance.
The 811SP Series is available in eight different sizes with flow rates up to 295 m3/hr (1,300 gallons/minute), a maximum head of 115 m (380 ft), and has the ability to operate in temperatures up to 260° C (500° F). Utilizing precision, heavy-duty power frames and rigid baseplates, the Griswold 811SP series also effectively minimizes the effects of work forces and shaft deflection while optimizing cooling and simplifying installation.
The Griswold 811SP series is designed to meet the requirement of ASME (ANSI) B73.1 and comes with material certifications per ASTM. The 811SP has been specifically engineered to be part-for-part interchangeable with the Griswold 811 ANSI series as well as select competitor pumps in equivalent sizes, making it easily retrofittable in thousands of installations worldwide.