Nuclear thermal systems advance for space propulsion
S. Himmelstein | July 15, 2021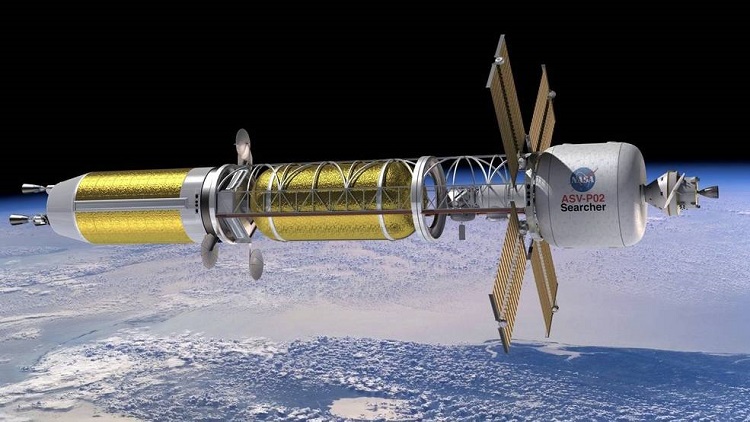 Illustration of a conceptual spacecraft enabled by nuclear thermal propulsion. Source: NASA
NASA is pursuing nuclear thermal propulsion technology for space applications and has selected three teams of companies to receive funding for relevant concept studies.
Nuclear thermal propulsion technology provides high thrust and twice the propellant efficiency of chemical rockets. The system works by transferring heat transferred from the reactor to a liquid propellant, which, after conversion to a gaseous form expands through a nozzle to provide thrust and propel a spacecraft.
The recipients of each $5 million contract awarded in conjunction with the U.S. Department of Energy are BWX Technologies, working with Lockheed Martin; General Atomics Electromagnetic Systems in partnership with X-energy and Aerojet Rocketdyne; and Ultra Safe Nuclear Technologies in concert with parent company Ultra Safe Nuclear Corporation, Blue Origin, General Electric Hitachi Nuclear Energy, General Electric Research, Framatome and Materion.
Each team will mature their reactor designs to 30% fidelity of the final design, demonstrating that it is feasible and estimating the cost and schedule to build a prototype reactor. Fundamental operating and performance requirements for the overall nuclear thermal propulsion engine and its subsystems will also be developed.
The prospective power systems are expected to generate thrust at far higher efficiencies than conventional propulsion systems and enable shorter transit times for missions to Mars and other deep space targets.