Solar cell efficiency exceeds 15%
S. Himmelstein | June 15, 2021
The promise of copper-indium-gallium-disulfide semiconductor material for use in tan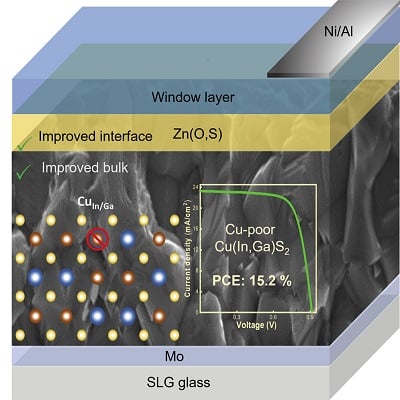 Bulk recombination and interface losses were addressed to achieve the efficiency gain. Source: Sudhanshu Shukla et al.dem solar cells is constrained by power conversion efficiency limits. The high bulk recombination losses and interface losses that account for performance gain barriers were tackled by an international research team, resulting in a cell with 15.2% efficiency.
Controlling copper deficiency in the material was demonstrated to effectively suppress bulk recombination losses. Inclusion of a zinc oxide buffer layer was also observed to passivate and minimize losses at the material interface. The improved solar cell performance of over 15% was documented from 1.6-eV-band-gap copper-indium-gallium-disulfide with an open circuit voltage of 902 mV.
The tandem cell performance improvement achieved by researchers from the University of Luxembourg, Uppsala University (Sweden) and Université Catholique de Louvain (Belgium) is described in Joule.