Quantifying the Costs of Photovoltaic Technologies
S. Himmelstein | May 01, 2018
Planning a solar energy installation is a complex task: which solar cell technology is optimal for arid, temperate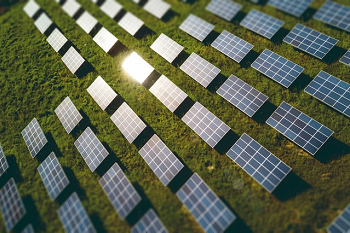 A new method determines the best type of solar panel for a given location and type of installation. Source: MITor humid regions? Which systems are cost-competitive for residential or grid-scale applications?
A method for assessing the levelized cost of electricity and energy yield of different solar energy options has been established to help decision makers. Installation and lifetime operational costs are analyzed for cadmium telluride and copper-indium-gallium-selenide single-junction solar cells, for two-junction or four-junction tandem cells.
The comparison shows that the four-terminal tandem system — the most efficient solar cell available — is the best option for residential systems, regardless of location. For household-scale rooftop systems in relatively dry locations, the more efficient but more costly panels would be better. The two-terminal tandem requires decreased subcell absorber costs to reach competitiveness over the four-terminal one. The cell with the lowest production costs — cadmium telluride single junction — is the most cost-effective for utility-scale projects.
The methodology developed by researchers from MIT, First Solar and Siva Power should be applicable to many other comparisons of solar technologies.