Double-layer Solar Cells Set Conversion Efficiency Record
S. Himmelstein | September 02, 2018
Two layers are better than one, particularly in the production of highly efficient tandem solar cells. A double-layer thin-film solar cell designed at the University of California, Los Angeles (UCLA), generates more energy than conventional solar panels. The device harnesses 22.4% of incident radiation, setting a power conversion efficiency record for perovskite — copper, indium, gallium and selenide (CIGS) tandem technology.
A 1 micron thick layer of perovskite is sprayed onto a commercially available solar cell in which the bottom layer is composed of a 2 micron thick coating of CIGS, all housed on a 2 mm thick glass substrate. The layers are joined by a nanoscale interface that imparts higher voltage to the solar system.
The combination improves CIGS cell performance by about 20%, and the researchers are now targeting a 30% power conversion efficiency. The dual-layer devices maintained 88% of their initial efficiency after 500 hours of aging under continuous one-sun illumination. The team also said that the perovskite spraying technique could be easily integrated into existing solar cell manufacturing processes.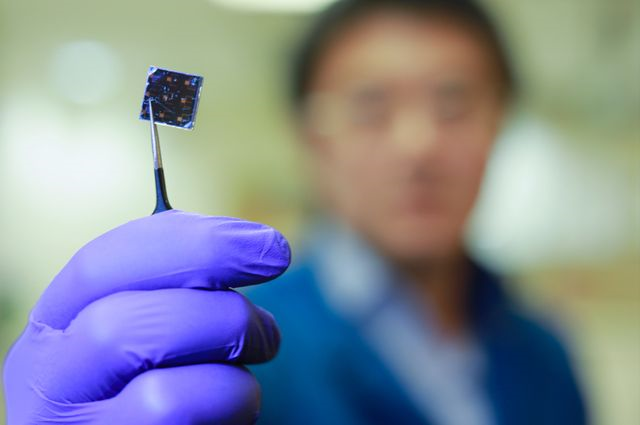 The double-layer solar cell converts 22.4% of incoming energy from the sun. Source: UCLA