Innovative new flanged multistage centrifugal pump – The MEC-MG from Caprari
Diana Aoun | January 27, 2022
Italian pump manufacturer Caprari recently introduced the latest addition to its line-up of multistage centrifugal pumps. The new MEC-MG series has been specially designed to deliver maximum reliability even when subjected to high degrees of mechanical stress. The new series is highly flexible, modular and now even easier to maintain. The series also includes the MEC-MG HT (High Tech High Torque) model for particularly challenging conditions.
Thanks to their typically compact and robust design, horizontal centrifugal multistage pumps are an ideal choice for flanging to diesel engines and for irrigation motor pump systems. The new MEC-MG features a modular structure enabling a support that allows connection to the motor with size SAE4 flange-flywheel with the monobloc support version with SAE3 flange also available. The highly robust structure allows the use of these pumps in extreme heavy-duty conditions and for extended periods.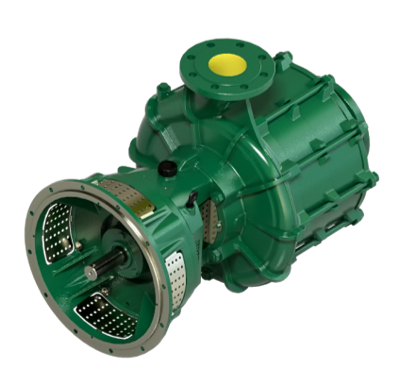 Source: Caprari
The MEC-MG features large ports that allow easy access to the sealing area. Easy maintenance is facilitated thanks to the new guards on the seal's ports that are removable from the outside as well as the coupling guards that can also be removed without pump disassembly.
The MEC-MG HT version features a pump shaft that is protected by a stainless-steel bush for maximum corrosion resistance. The splined pump shaft also comes in stainless steel for higher yield strength and superior resistance to fatigue. The HT also features a new cylindrical roller bearing.
All pump models feature oil lubrication that allows excellent heat dissipation capacity thanks to the new Gore-Tex gland packing. Another notable feature of the new series is the Easy Fit stuffing box. This innovative system allows personnel to remove the stuffing box while leaving the pump in place, access the packing seal and replace it directly in the field. The Easy Fit geometry and materials have resulted in a design that is functional, lightweight and robust all in one.
The new MEC-MG series from Caprari can deliver a maximum flow capacity of 100 L/s (1,585 US gpm) and can provide a maximum working head of up to 195 m (640 ft).