Video: Frameless solar panels conform to any roof
S. Himmelstein | May 24, 2021
A new solar technology platform from Maxeon Solar Technologies Ltd. enables the production of frameless, thin, lightweight and conformable solar panels with efficiency and performance equivalent to standard solar panels.
Maxeon Air panels can directly adhere to the roofs of buildings that may not be able to support larger and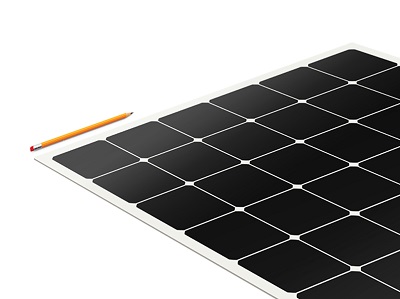 At just 4 mm thick, each panel is thinner than a pencil. Source: Maxeon Solar Technologies Ltd.more conventional photovoltaic arrays. An installed weight of around 6 kg/m² is less than half of standard systems and greatly reduces the rooftop load. The peel-and-stick panels are backed by an integrated adhesive layer that allows for roof installation without the need for aluminum frames, racking, anchors or ballast.
The panels composed of interdigitated back contact solar cells feature an efficiency of 20.9% a low power temperature coefficient, shade tolerance and wide spectral response to deliver maximum energy yield from limited rooftop area.
Product availability is scheduled to begin in the first quarter of 2022.