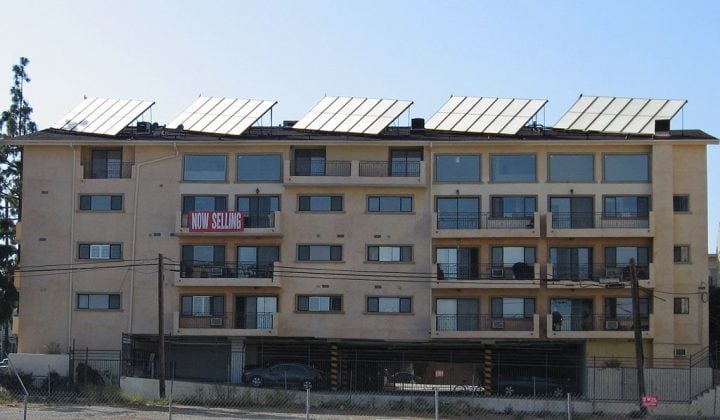 Not every building is suitable for solar panels — sometimes the tilt of the roof is not suitable and sometimes it is just covered by shadows. Source: Downtowngal / CC BY-SA 3.0
As the number of homes with rooftop solar panels grows, scientists from the University of New South Wales have created an online tool to assess whether it makes sense for homeowners in Australia to add them to their rooftops.
Depending on the location of the home and the tilt of the homeowner's roof, it doesn't always make sense for homeowners to install solar panels. As such, the online tool, called SunSPoT, helps consumers determine if solar panels on their particular roof would be efficient and worth the effort and cost.
SunSPot will inform users whether or not solar panels would be suitable for their structure based on input from the user concerning tilt of the roof and shading. The tool is expected to save time and energy for those contemplating solar panels.
Although SunSPoT will only work in Australia, experts believe the idea could easily be adapted to other countries.
Paul Fletcher, Federal Minister for Urban Infrastructure and Cities, said about the SunSPoT: "Being developed under the Australian Government's Smart Cities and Suburbs Program, the platform will benefit end users by allowing them to calculate their solar power potential and make informed decisions on investment in solar power generation."
To see how the tool works, click here.