Panasonic to Supply Solar Roof for Prius
David Wagman | March 03, 2017
Panasonic announced an HIT Photovoltaic Module for Automobile and that it is working with Toyota to provide panels for the Prius Prime's optional solar roof.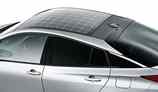 Panels fit the roof's contour.The company says the solar roof panel allows it to fit the Prius roof without altering its shape or contour.
The panel is capable of producing 180 watts of electricity which, according to Panasonic, is enough to power vehicle accessories along with charging the car's lithium-ion battery. The solar panel may enable the Prius Prime to gain as much as 6 kilometers a day to its range.
Panasonic says that the solar cells combine a crystalline silicon substrate and an amorphous silicon film, and feature high conversion efficiency and "excellent" temperature characteristics.