Team working on method for manufacturing semi-transparent solar panel windows
Marie Donlon | April 24, 2020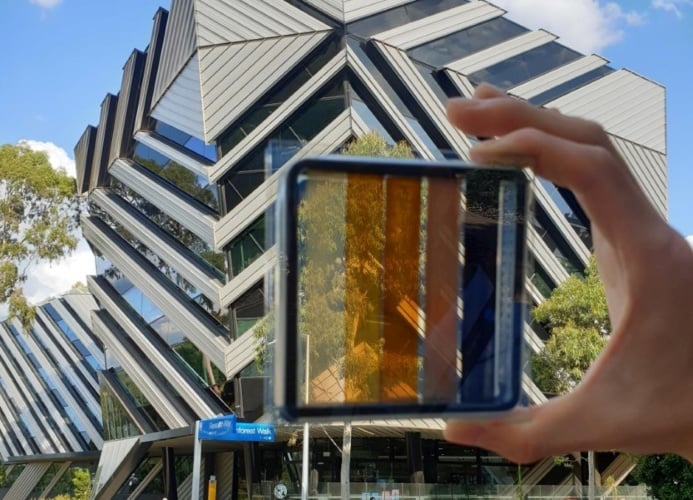 Semi-transparent perovskite solar cell with contrasting levels of light transparency. Source: Dr Jae Choul YuResearchers at Monash University in Australia are attempting to develop a method for incorporating semi-transparent perovskite solar cells into commercial products like windows.
Working in conjunction with Viridian Glass, Australia's largest glass manufacturer, a team led by Professor Jacek Jasieniak of Monash University used an organic semiconductor that can be transformed into a polymer to replace Spiro-OMeTAD, a commonly used solar cell component that demonstrates low stability due to its watery coating, and incorporated it into window glass.
According to Professor Jasieniak, the semi-transparent solar cells incorporated into window panes demonstrated a conversion efficiency — which is a measure of a solar panel's ability to convert sunlight into usable electricity — of 17% versus rooftop solar panels, which demonstrate conversion efficiencies ranging from 15% to 20%.This means that the semi-transparent solar cell window panes are within range of standard rooftop solar panels.
The team also determined that 2 square meters of solar window could potentially produce an amount of electricity equal to that generated by one solar panel.
Although the products are not expected to be commercially available for another 10 years, the team is still attempting to devise a large-scale manufacturing technique for incorporating the solar film into products across several industries.
The research is published in Nano Energy.