Biosensor device detects toxins, pathogens
Marie Donlon | April 28, 2021
Researchers from Los Alamos National Laboratory have developed a biosensor that detects toxins, bacterial and viral signatures, biothreats and white powders in samples of blood, water, food and animals.
The Portable EnGineered Analytic Sensor with aUtomated Sampling (PEGASUS) is a device that can rapidly detect specific pathogens, biological threats or toxins, resulting in an improved course of treatment and, subsequently, improved health — both human and environmental — outcomes. Because the device can distinguish bacterial from viral signatures, it also reduces the prescribing of broad spectrum antibiotics, thereby reducing the incidence of antibiotic resistance.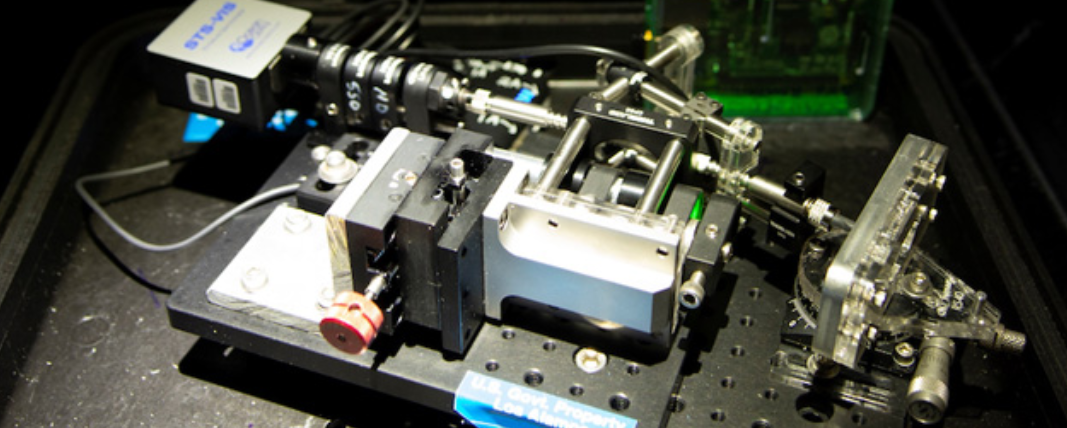 Source: Los Alamos National Laboratory
The mini waveguide-based optical biosensor developed at Los Alamos detects analytes on a planar optical waveguide surface in a tiny (~200 nm) field. To create the sensing field, a laser was paired at a critical angle of incidence into the planar waveguide, and total internal reflection of light occurred between the layers of the waveguide as a result of their various refractive indices. Consequently, an evanescent field radiated off the surface of the waveguide, where fluorescent molecules were detected.
"Detection occurs in two major steps," said researcher Kiersten Lenz. "First, the sample is processed in a microfluidic device, which requires only a small sample volume. Next, the processed sample is loaded onto the miniaturized sensor, where detection occurs. The microfluidic device and sensor can be packaged up into a rugged briefcase that can be brought anywhere in the world, allowing for greater access to this sensing tool."
The research team envisions a number of applications for the PEGASUS device including the detection of bacterial infections in humans and animals, outbreaks in the food supply, the identification of white powders, the detection of specific viruses in humans, animals, food and water, and the identification of possible biothreat agents, among other uses.