Plasmonic Biosensor Detects Exosomes with Naked Eye
S. Himmelstein | December 19, 2017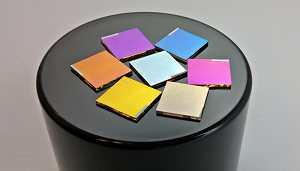 The black background enhances the reflectivity contrast of various colors at a normal angle of incidence. Source: Aalto University
Exosomes are cell-derived vesicles released to urine and blood that can serve as biomarkers of disease. Detection and analysis of exosomes is difficult due to the complexity of body fluids. This challenge may have been overcome with an approach developed at Aalto University, Finland, that allows for detection of these particles with the naked eye.
Researchers designed a new biosensor composed of plasmonic materials, which efficiently reflect and absorb light based on the polarization of metallic nanostructures. The device was assembled by depositing plasmonic metaparticles on a black, physical body that absorbs all incident electromagnetic radiation. The research demonstrated the previously unknown specular reflection and the Brewster effect of ultrafine plasmonic dipoles on a black body host.
The biosensor detects refractive index changes between healthy and diseased exosomes, enabling naked-eye environmental and bulk biodetection of samples with a very minor change of molecular polarizability of even 0.001 percent.