Biosensors Advance with a New Way to Inject Light into Microdisk Resonators
S. Himmelstein | June 01, 2018
A new way to inject light into silicon microdisks could advance the development of practical point-of-care chip-based sensors to detect cancer and other diseases. These microscale resonators use the whispering-gallery optical effect to trap and enhance incoming light. The curved inner surface of a microdisk carries light waves across the disk to boost a light-based signal coming from a cell, protein or virus of interest, allowing more sensitive detection of subtle changes associated with certain diseases.
The end-fire injection configuration designed by researchers in China offers a simple, cost-effective and efficient way to get light into the microdisk resonator. Devices using microdisks and end-fire injection can be used to detect temperature changes and the presence of nanoparticles.
The technique could be used to engineer a portable, low-cost sensor that can detect changes in cells as early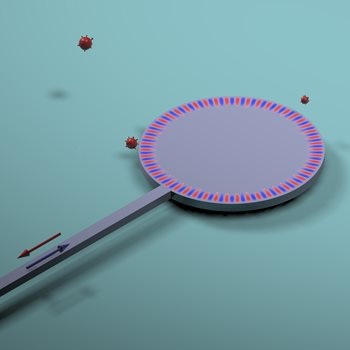 The end-fire injection technique uses a waveguide directly connected to the edge of the microdisk. Image Credit: Qinghai Song, Harbin Institute of Technology in Chinaindicators of cancer. It could also prove useful for integrated photonic circuits for communication applications and a variety of sensors such as those used in homeland security or environmental monitoring.
Light is indirectly injected into most microdisks using the evanescent light coupling optical phenomenon, but this method requires very precise alignment between the waveguide and the microdisk, which increases manufacturing costs and introduces stability problems.
The end-fire injection technique uses a waveguide directly connected to the edge of the microdisk. Light that is exactly perpendicular to the disk's side will bounce off the interface, but using light angled just slightly less than perpendicular induces a counterintuitive phenomenon known as laser time-reversal. This creates a laser that absorbs light rather than emits it, allowing the light to efficiently enter the microdisk.
The researchers built and tested a device that included a microdisk with a 5-micron radius connected to a waveguide. A Y-splitter was incorporated to allow light passing through the splitter to be injected into the microdisk and then be transmitted out of the device along the same waveguide. Recording the spectrum emitted from the Y-junction showed that light could be coupled into the microdisk with an efficiency as high as 57 percent.
The device was demonstrated to have a high Q-factor, a measure of how well the microdisk confines and amplifies the light. It also maintained good performance parameters even with fabrication deviations such as increasing the waveguide width from 400 nanometers to 700 nanometers.
Sensors incorporating microdisks and end-fire injection could detect the presence of multiple large nanoparticles as well as single nanoparticles as small as 30 nanometers.
Scientists from Shanxi University, Harbin Institute of Technology and Chinese Academy of Sciences participated in this research, which is published in Optica.