Watch: Smart drone swarms to inspect powerlines
Marie Donlon | February 04, 2021
Researchers at the University of Southern Denmark's Maersk Mc-Kinney Moller Institute have developed an intelligent drone designed to inspect high voltage electrical cables for faults and corrosion.
The artificial intelligence (AI)-based drones will travel in swarms, flying around cables and checking for faults that can disrupt the electrical grid. In the event that a fault is discovered, the intelligent drone sends a message to the cable owner for repair.
According to its developers, the drones can detect high-voltage cable via onboard sensors, and on-board cameras capture images of the cables and apply an algorithm to those images to detect errors. Additionally, the drones automatically recharge themselves via the magnetic field surrounding the overhead cable lines. Likewise, the drones feature a shield to protect against high voltages, enabling them to fly close to the power lines.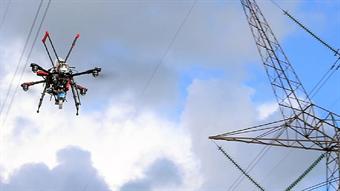 Source: University of Southern Denmark
Currently, such inspections are conducted by human personnel in lift trucks and helicopters, which can be both expensive and unsafe due to requiring personnel to work from potentially dangerous heights.
Using the drones, the researchers report that humans would only be deployed for performing significant repairs.
For more on the drones, watch the accompanying video that appears courtesy of the University of Southern Denmark.