Superfast Broadband Flies in to Welsh Village
Nancy Ordman | December 04, 2017
The 20 homes in Pontfadog, Wales, are now connected to the world via broadband, thanks to a creative use of drone technology.
The remote village in northeast Wales lies in the Ceiriog Valley, surrounded by forest and uneven slopes.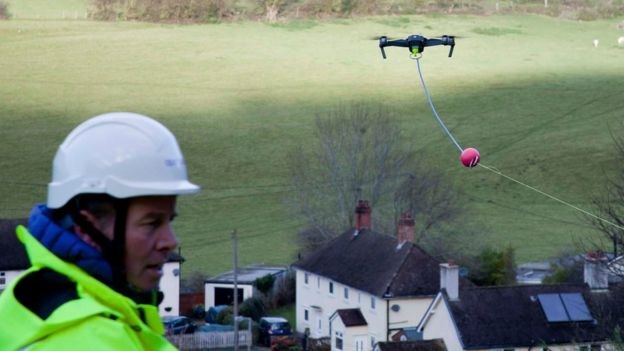 Drone stringing drawing rope in Wales. Source: OpenreachUsing traditional technology, cable installers ran the risk of tangling cable in the surrounding trees. The valley location also ruled out satellite and wireless technologies.
Andy Whale, chief engineer for Openreach, the company doing the work, explained that "if we tried running the cable through woods it was also very likely we'd get it caught up in branches and other natural obstructions, so we figured the best option was to fly it in over the top of the tree canopy and then lift it up to make sure it was clear of the tree line."
Using a drone was not as straightforward as hooking a cable to the apparatus and flying it between the telegraph poles to which the cable was attached. The drone could not fly with the heavy cable, so engineers attached lightweight fishing line to it, which in turn was attached to a rope and the rope to the cable. By drawing on the rope, engineers positioned the cable. The entire job took about an hour.
What is the impact of 1 Gbps speed?
"It has made a world of difference to us," said Chris Devismes, a retired teacher. "I live here with my two teenage sons and they're often online — watching films, streaming music or Skyping their friends. When all three of us were online at the same time, it could often be a struggle and things would start to buffer and freeze."
Openreach subsequently used drones to help install cables in Aberystwyth and has plans to continue using this technique elsewhere in Britain.
Video credit: Openreach