Flying car hub to launch in 2025 in central Florida
Peter Brown | November 16, 2020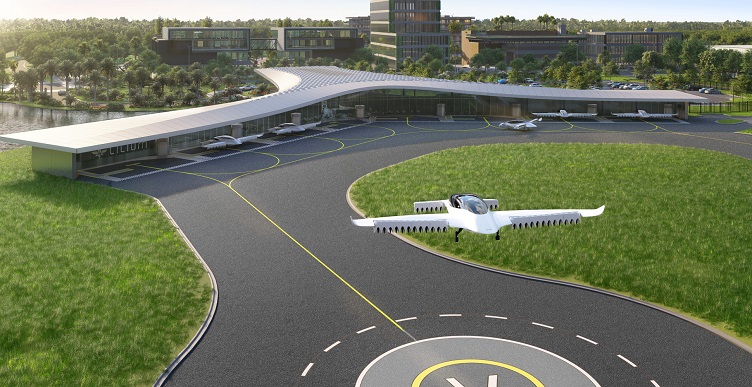 An artist's rendering of how the Vertiport flying car hub will look like when it is built and designed in Orlando, Florida. Source: Lilium
German flying car startup Lilium GmbH is developing the first of a planned series of all-electric vertical take-off and landing (eVTOL) hubs for future mobility aircraft.
Lilium is working with Tavistock Development Company to plan, construct and develop the first so-called Vertiport in the Lake Nona region of Orlando, Florida, which will also serve as Lilium's first U.S. network location. The hub will be launched by 2025 and will connect more than 20 million residents within a 186-mile radius including cities such as Orlando and Tampa.
Lilium said the Florida Vertiport will be the first stretch of Florida's high-speed electric transportation network with Central Florida at the core of the network. The Florida-based Vertiport is one part of Lilium's vision of bringing regional air mobility to locations worldwide.
Lilium's flying cars can travel distances of up to 186 miles in one hour on a single charge.
The Lake Nona area near Orlando provides a close location to Orlando's International Airport, which services 75 million annual visitors. The Vertiport hub will be part of Orlando's aerotropolis highlighted by the international airport and air mobility services such as Lillium and aviation training facilities that train up to 10,000 pilots each year.
Vertiport locations are subject to the approval of the Federal Aviation Administration (FAA), Florida's Department of Transportation (FDOR) and other regulatory agencies. Lilium's flying cars are under certification from the European Aviation Safety Agency (EASA) and the FAA and will operate under these organizations' frameworks.
Lilium last year unveiled its five-seat prototype flying car powered by 36 all-electric jet engines for VTOL and achieve horizontal or cruise flight. The air taxi does not have a tail, rudder, propellers or gearbox. The top speed of the flying car is 300 km/h with a range of 300 km.