Self-driving Truck Granted License in Nevada
Engineering360 News Desk | May 07, 2015
What may be one of the world's first autonomous trucks is hitting the road for tests after the governor of Nevada handed over a license plate for use by a Freightliner Inspiration Truck.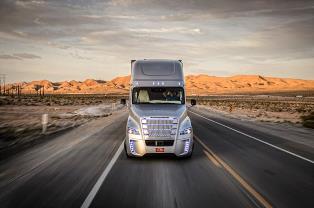 Freightliner Inspiration Truck - First autonomous driving on public roads. Source: Daimler.comA human driver will sit behind the wheel in case of an emergency, but the future system would have no humans on board at all, according to Wolfgang Bernhard, the board member overseeing truck operations at Freightliner's parent, Daimler AG. "An autonomous system never gets tired, never gets distracted," Bernhard says. "It is always on 100%."
Nevada is one of the first states in the country to create special regulations for autonomous vehicles.
"Ultimately, this has to be federally regulated to have a consistent basis across the country," says Martin Daum, president and CEO of Daimler Trucks North America.
Daimler Trucks says more than 10,000 miles have been logged testing the truck. It operates at level 3 technology, which means the rig cannot operate under all conditions without driver input.