Locomation completes Midwest self-driving trucking pilot project
Peter Brown | October 29, 2020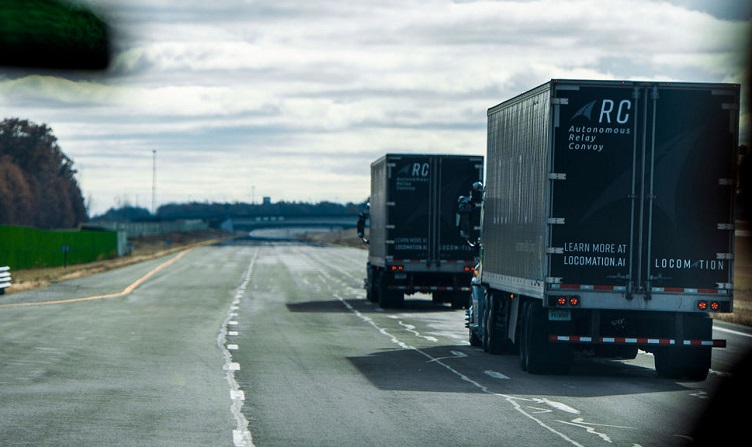 Locomation has completed a pilot project in the Midwest to deliver goods between states using autonomous trucks. Source: Locomation
Autonomous trucking technology supplier Locomation has successfully completed a pilot project testing the on-road performance of vehicles across three separate interstate routes in the Midwest.
The pilot program was designed to showcase self-driving trucking technology for the SmartBelt Coalition (SBC), a collaboration of five transportation agencies and seven research and academic institutions located in Michigan, Ohio and Pennsylvania. The pilot program involved two Locomation trucks that performed three separate interstate routes under observation from representatives of all organizations.
The two autonomous trucks completed several routes through each of the three states, including one that started at the Pittsburgh Community Food Bank and delivered food donations to families in need in Toledo, Ohio. The Autonomous Relay Convoy (ARC) platform allows one driver to pilot a lead truck equipped with the self-driving technology while a follower truck operates in tandem through Locomation's fully autonomous system.
The SmartBelt Coalition was created to foster collaboration among multiple agencies and research affiliates in these states. This includes research, testing, policy, standards development, deployments, outreach and funding of connected and automated vehicle technology.
Locomation said collaboration is needed to move autonomous technology forward including the support of governments.
"The SmartBelt Coalition is a prime example of the importance of collaboration across states, agencies and institutions to set the stage for the deployment of real-world autonomous trucking," said Dr. Çetin Meriçli, CEO and co-founder of Locomation. "Our participation is further validation that we're on the most direct path to driving real world solutions for autonomous trucking."
The market for self-driving trucks is heating up as the need for future trucking is growing due to a surge in e-commerce and an aging population of truckers that are not being replaced by a younger generation. Autonomous trucks are considered a possible alternative for human drivers, meeting demand and improving safety by eliminating human error in first-mile logistics.
This pilot follows a similar project Locomation operated with the Transportation Research Center (TRC) to test its autonomous truck platform at its 540 acre facility in Ohio. The testing is scheduled to continue through 2020 and will begin immediate work with TRC's engineering and technical teams.