NuPort Robotics to conduct self-driving middle-mile truck project
Peter Brown | March 12, 2021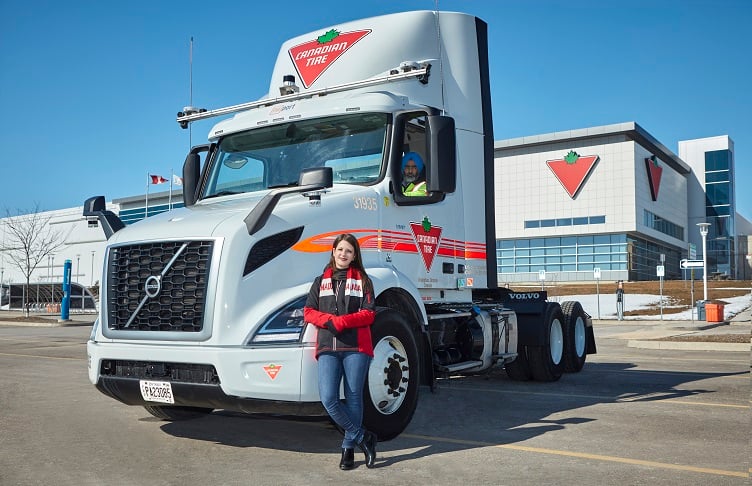 During the two-year project, artificial intelligence technology from NuPort will be used in two retrofitted conventional semi-tractor trailers with sensors and controls. Source: NuPort
Canadian autonomous trucking startup NuPort Robotics Inc. is working with Canadian Tire Corp. on an automated heavy duty trucking pilot project in the country.
The project will include a $3 million investment from the Ontario government and will focus on automated transportation for the middle mile, short haul shuttle runs that semi-tractor trailers make between distribution centers, warehouses and terminals every day.
The goal is to develop automated trucks that are fuel efficient, safer to operate and deliver an enhanced driver experience. During the two-year project, artificial intelligence (AI) technology from NuPort will be used in two retrofitted conventional semi-tractor trailers with sensors and controls, a touchscreen navigation system and features such as obstacle and collision avoidance.
Currently, trucks are transporting goods between a Canadian Tire distribution center in the greater Toronto area and nearby rail terminals within a 12.5 mile radius. The project will develop a system that incorporates autopilot features for conventional trucks with a driver. The sensors will work as a safety system to cover blind spots and prevent accidents. The result will enable peak efficiency, lower carbon emissions and provide a better cargo transportation experience, NuPort said.
Nuport's approach to autonomous trucking focuses only on middle mile delivery logistics, using a known set of predetermined trucking routes that are repetitive and high frequency as opposed to general highway driving. When implemented on fixed routes, the automated trucks will benefit from faster commercial deployments and improvements in supply chain sustainability.
Autonomous trucks are seen as the next step in commercial logistics — a way to solve the challenges of an aging driver pool and the increase in e-commerce logistics. Numerous startups and traditional automotive OEMs are quickly developing automated systems for first-, middle- and last-mile delivery logistics to take advantage of this emerging and expanding market for autonomous trucking deliveries.
While most, if not all, of these projects involve Level 2 or Level 3 (partial autonomy) technology, it sets the stage for what will later become fully autonomous trucks. ABI Research forecasts that autonomous commercial vehicle shipments for SAE Level 4 (high driving automation) in the U.S. and Canada is expected to reach 16% by 2026 with SAE Level 5 (full automation) to be sub 2% by 2029.