Q&A: Einride powers a self-driving truck future
Peter Brown | October 09, 2020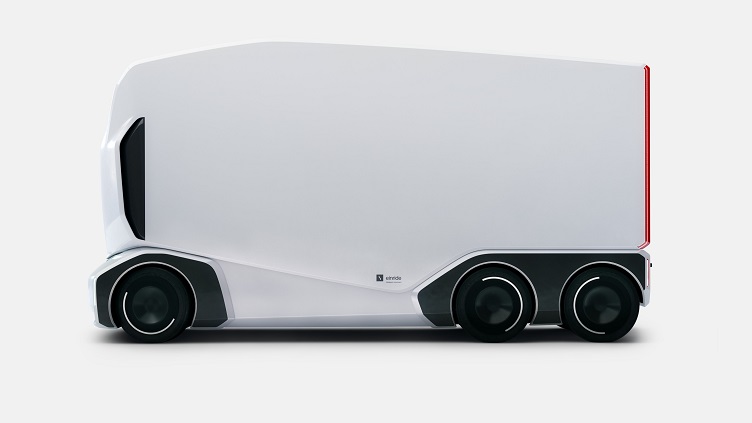 Einride pod operates at SAE Level 4 autonomy and will continue to do so as it rolls out commercially on a global scale in the coming years. Source: Einride
Swedish automotive startup Einride has been working on pilot projects for its autonomous and electric logistics platform but now the company is going global with its second-generation self-driving logistics platform.
After recently raising $10 million in funding, Einride's new trucking pods, called Autonomous Electric Transports (AETs), will come in four different models designated AET-1, -2, -3 and -4. First to launch will be AET-1 and AET-2 with a capacity to haul up to 16 tons, speeds of about 18 mph and a range of 80 to 110 miles. AET-3 and AET-4 are expected to have similar weight and payload but with faster speeds.
While the second-generation pods look like the first pods from Einride, the AETs are more aerodynamic than and come with different hardware and software configurations depending on the customer's needs and operational domain demands. The electric drivetrain and telematics hardware interfaces with the mobility platform and each pod includes LiDAR, cameras and sensors as part of the autonomous system.
Einride said it is using Nvidia's self-driving software for Level 4 driving and the trucks can be operated remotely by a user even hundreds of miles away from where the trucks are operating.
Einride CEO Robert Falck sat down with Engineering360 to discuss the company's recent funding, the rollout of AETs and its path toward enabling an autonomous truck future.
1) Recently, you raised $10 million in funding. Can you explain what your plans are for Einride to use this funding and how it will progress your autonomous truck strategy?
Robert Falck: We are proud to be able to attract new investment in such uncertain times, and will be using these new funds to expand the deployment of our services with our customers, hire new talent, and improve our technologies.
2) The company is already generating revenue for its self-driving freight services, can you explain what is generating revenue for the company and how you seek to continue this momentum?
Falck: We are generating revenue through our deployment of the freight mobility platform and with customers in Sweden, specifically Lidl and Oatly. Our ambition is to scale up these deployments with our existing customers as well as new ones both here and abroad, and the next-generation Pod is central to our plans to do so.
3) Einride has formed a number of deals over the years for different types of self-driving trucks including the partnerships with Lidi to supply the grocery with sustainable freight transportation and partnering with Swedish drink company Oatly for all-electric trucks for its beverages. How are these deals progressing and are you expecting to continue these partnerships long term?
Falck: We have seen great progress with these partnerships thus far and have started shipping electric-only with them already. As part of the launch of the new Pod, both Lidl Sweden and Oatly have agreed to implement pods into their transport networks in the near future, so we are excited about the possibilities.
4) A few years ago, Einride developed an all-electric autonomous logging truck as part of an effort to curb environmental impacts from logging. Is that program still going on and, if so, are you seeking to expand it further?
Falck: The log was our way of exploring the different use cases for autonomous, electric heavy transport vehicles in industrial settings. While we have not put it into production, we have been in discussions with several companies in forestry and other heavy industries about the potential of autonomous and electric transport in their supply chains and what that would look like.
5) There are reports that autonomous trucks will be the solution to meet the current trucker shortages and help in the rise in e-commerce deliveries, what is your opinion about why self-driving trucks are needed today and in the future?
Falck: Autonomous transport will have the capability to be safer on the road than human drivers, but also makes a strong environmental and business case when paired with electric operation. We do not see autonomy as replacing the need for truck drivers, but rather changing the profession to look much different than it does today through remote operation and oversight. There will always be a need for people in the supply chain, but what that will look like in the future is what is liable to change.
6) Is your strategy to develop full trucks that are automated or the systems to enable such trucks?
Falck: We are developing the technologies for autonomous and electric transport, but it is not our intention to mass-produce vehicles like a traditional OEM.
7) What level of autonomy is Einride going after. There was a recent report from IDC that said self-driving features will roll out slowly instead of one fell swoop with Level 1 and 2 being first available and then followed by Level 3 and 4 with Level 5 being the ultimate end goal but far into the future. What is your opinion about this?
Falck: Our pod operates at SAE Level 4 autonomy and will continue to do so as it rolls out commercially on a global scale in the coming years. Rather than the human-centric SAE model of autonomy that focuses on limiting the human driver's responsibility as autonomy increases, we developed the Autonomous Electric Transport (AET) model to focus instead on the use case for autonomy in transport, increasing the level of complexity of the environment as the technology improves.
8) Does Einride plan to have any pilot programs operational soon such as the ones you already announced with grocery stores and logging?
Falck: We will have more news in the near future on our customer deployments.
9) Now that Einride has secured additional funding, what are the next steps for the company?
Falck: Our big focus is on taking on new partners and customers, bringing on new talent and scaling up our operations on a global scale.