Electric trucks reduce carbon footprint by 87% in first month of service
Peter Brown | November 03, 2020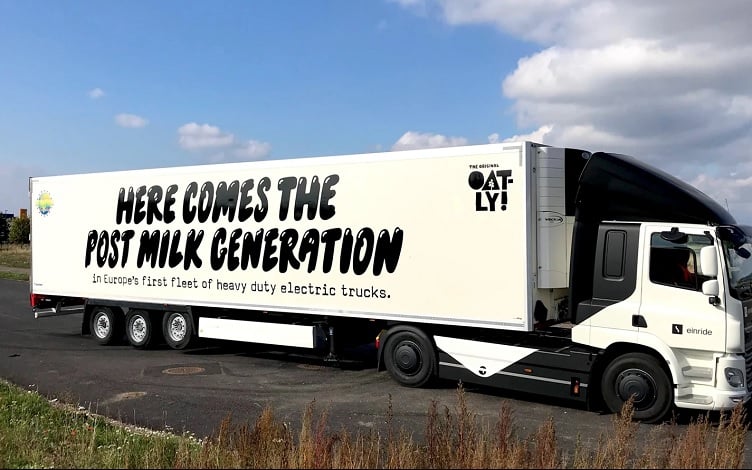 Oatly started using electric trucks at the beginning of October and said it was able to reduce its carbon footprint by 87%. Source: Einride
Oatly, a Swedish drink company, started using Einride's electric trucks for delivery at the beginning of October and the first results from this partnership have been revealed — the trucks were able to reduce Oatly's carbon footprint by 87%.
The electric trucks were used on delivery routes from each of Oatly's Swedish production sites in Helsingborg, Landskrona and Småland's Tingsryd, logging more than 5,300 miles and saving 10,500 kilograms of CO2 compared to diesel.
Einride claims Oatly is one of the first companies worldwide to operate a full fleet of electric trucks daily, on site. The initial partnership began in May 2020 and took about six months for the companies to get up and running. The trucks run around the clock at the Oatly facilities and the trucks are coordinated by the Einride intelligent freight mobility platform for efficiency and emissions reduction.
"This partnership debunks the myth that electric trucks cannot handle heavy loads," said Robert Falck, CEO and founder of Einride. "When supported by intelligent software, heavy loads and long distances are entirely possible, and our freight mobility platform has proven this already with its ability to coordinate all details of the Oatly vehicle transport in real-time. We measure minute-by-minute, everything from drivers, pallets, loading bays, route choices, and loading points to make electric trucks both smart and profitable for our partners."
The drivers in the trucks utilized by Oatly come from one of Skåne's largest haulers, Erikssons Åkeri AB, a carrier partner of Einride.
Einride has recently raised $10 million in funding and released new electric trucks to further its electric and autonomous future. These second-generation pods feature an electric drivetrain and telematics hardware that interfaces with the mobility platform and is equipped with lidar, cameras and sensors as part of the autonomous platform.