Video: Artificial organ growth supported by 3D-printed fluid system
S. Himmelstein | October 02, 2020
A 3D-printed fluid system has been developed to support the growth and development of artificial organs. Researchers from the University of Washington and Rice University designed the Heat Exchangers for Actuation of Transcription (HEAT) 3D-printed fluid system to supply penetrating heat for manipulating the genetic expression of cells in artificial tissues.
An open-source projection stereolithography bioprinting technology was used to fabricate topologically complex fluidic channels of specific geometries in 3D-printed hydrogels infused with genetically engineered heat-inducible cells during the printing process.The thermofluidic technology generates patterns that imitate the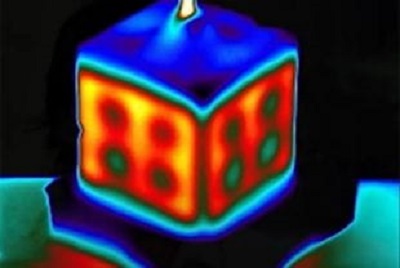 Infrared imaging shows heat distribution in a hydrogel tissue construct. Source: Daniel C. Corbett et al.genetic profiles found in human livers and uses thermal patterns to trigger gene expression. The transfer of heat from printed networks within the tissues activates the transgenes in embedded cells and could reveal how genetic patterning inside different cells drives the segregation of tissues and various liver functions.
This knowledge could open new avenues for sculpting working organs from stem cells and for remotely managing implanted organ tissues to achieve a desired therapeutic response. Noting that liver disease affects more than 500 million people worldwide and accounts for more than 2 million deaths annually, the researchers hope to engineer artificial tissues that could be surgically implanted to take over lost functions of diseased livers.
The research demonstrating HEAT technology is published in Science Advances.