Power-generating windows appear closer with efficient, semi-transparent solar cells
S. Himmelstein | August 18, 2020
Coatings are usually applied to building windows and glass facades to reduce heat gain and light admission through reflection and absorption mechanisms. A semi-transparent photovoltaic material was developed by an international research team to exploit this otherwise wasted energy without visibility interference.
The semi-transparent organic photovoltaic cell developed by researchers from Soochow University (China), North Carolina State University, University of Michigan and SLAC National Accelerator Laboratory achieved a power conversion efficiency of 8.1% and visible transparency of 43%. The color-neutral device incorporates a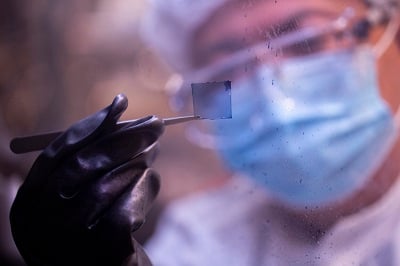 Semi-transparent organic photovoltaic cells achieved a 10.8% power conversion efficiency and 45.8% visible transparency. Source: Robert Coelius, Michigan Engineering Communications & Marketingtransparent indium tin oxide anode and a narrow energy gap non-fullerene acceptor near-infrared absorbing cell and outcoupling coatings on the exit surface.
A power conversion efficiency of 10.8% and transparency of 45.8% was documented for an ultrathin silver electrode, which also lent the material a slightly green tint. Light utilization efficiencies of 3.5% and 5% were measured for the indium tin oxide and silver versions, respectively. The researchers are working to boost this efficiency level to 7% and plan to study the economic feasibility of integrating these window materials, which can be manufactured at large scale, into new and existing buildings.
The improved balance demonstrated between efficiency and transparency indicates the utility of semi-transparent organic photovoltaic cells as power-generating windows and in other solar energy harvesting applications.