Watch sound waves move droplets in a microfluidic platform
S. Himmelstein | July 15, 2020
A new rewritable and programmable microfluidic lab-on-a-chip system taps sound waves to create tunnels in oil to efficiently manipulate and transport droplets. The approach eliminates the surface absorption problem inherent in most microfluidic devices, in which samples being transported inevitably leave traces of themselves behind that can lead to contamination.
The platform developed by researchers from Duke University and the University of Southern California uses a thin layer of inert, immiscible oil to stop droplets from leaving behind any trace of themselves. A grid of piezoelectric transducers below the oil layer vibrate when electricity is passed through them, and the resulting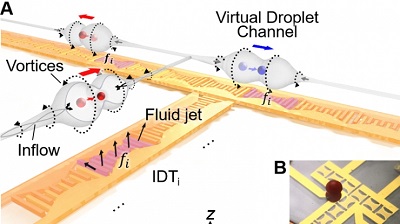 Droplets of different sizes sit on transducer grids that vibrate to create tunnels in a thin layer of oil, which can transport the droplets in multiple directions. Source: Peiran Zhang et al.vibrations create sound waves in the overlying oil.
The inclusion of dual-mode transducers that enable users to direct droplets along two axes serves to reduce the complexity of the electronics four-fold. The frequency and strength of wave-inducing vibrations are controlled so to produce acoustic streaming vortices that form tunnels and manipulate droplets in any direction along the surface. The current design iteration described in Science Advances also maintains the operating voltage of the transducers three to seven times lower than previous systems.
A microcontroller enables programming and automating droplet movement in the system demonstrated to simultaneously control eight droplets. Combining the miniaturized radio frequency power supply with a control board is planned in preparation for large-scale integration and dynamic planning.