Watch: A microfluidic mechanism based on sound waves
S. Himmelstein | June 15, 2020
Lab-on-a-chip systems are increasingly used for automated fluid handling in biomedical research applications but are hindered by surface absorption issues. These devices rely on solid surfaces that allow the samples being transported to leave traces behind that can lead to contamination. Duke University researchers have advanced a sound idea based on acoustic vortices to improve the mechanics of microfluidics.
A new lab-on-a-chip platform uses a thin layer of inert, immiscible oil to stop droplets from depositing any residues. A grid of piezoelectric dual-mode transducers beneath vibrates when electricity is passed through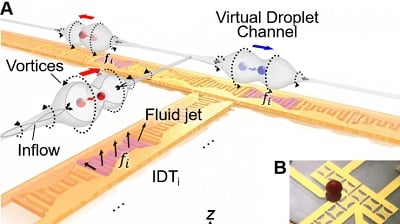 Droplets of different sizes sit on grids of transducers that vibrate to create tunnels in a thin layer of oil, which can transport the droplets in multiple directions. Source: Duke Universitythem, creating sound waves in the thin layer of oil above. The transducers are designed and the vibration frequency and strength are controlled in such a way to generate vortices that combine and form tunnels that can push and pull droplets in any direction along the surface of the device.
The ability to move droplets along two axes was demonstrated while reducing the complexity of the electronics four-fold. The researchers reduced the operating voltage of the transducers three to seven times lower than previous system, which allowed it to simultaneously control eight droplets. The capacity to program and automate much of the droplet movement was facilitated by incorporation of a microcontroller.
The researchers now plan to integrate the ability to split droplets into two without having to touch them. These and other refinements could result in a small-scale, programmable, rewritable biomedical chip that is completely reusable.