COVID-19 antibody detection tool could spur vaccine development
S. Himmelstein | April 02, 2020
An antibody-detection tool is being used to analyze blood samples from people who recover from COVID-19 to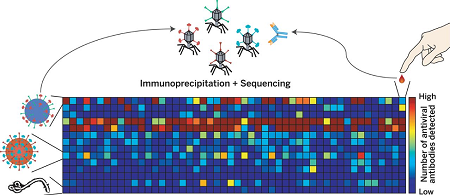 VirScan displays bits of protein from more than 1,000 strains of virus, including the novel coronavirus. Antibodies in a blood sample latch onto the bits they recognize. Source: Howard Hughes Medical Institute learn how the coronavirus affects the immune system. The data gleaned by Howard Hughes Medical Institute researchers can inform the development of new vaccines and therapies.
The VirScan system developed in 2015 analyzes a drop of blood to test for antibodies against more than 1,000 different strains of viruses and bacteria that may have infected a person, whether at the time of testing or decades earlier. The assay relies on a library of epitopes, or short protein fragments derived from the surfaces of viruses. Antibodies present in a sample as a result of exposure to a specific viral strain will recognize the epitope in the VirScan library and bind to it, giving a positive result.
With the addition of SARS-CoV-2 epitopes to the library, researchers should be able to determine which regions of the virus are targeted by an antibody response specific to the virus. While not a point-of-care diagnostic test, as one week is required to return results, VirScan can be applied to samples from large groups to improve estimates of how many people were infected in a given geographic area and to provide information on the virus's true lethality rate.