A 20 minute microfluidic test for viral antibodies
S. Himmelstein | May 29, 2020
A portable microfluidic test developed by researchers in Japan to detect antibodies against a viral infection has been optimized to diagnose avian flu and might be adapted to detect COVID-19 antibodies. The platform provides results in as little as 20 minutes and requires only 2 microliters of serum to run.
The method is based on conventional fluorescence polarization immunoassay but applies a different measurement mechanism to render the 5.5 kg analyzer much smaller and portable. Liquid crystal molecules, an image sensor and the microfluidic device are used to simultaneously examine multiple samples and to reduce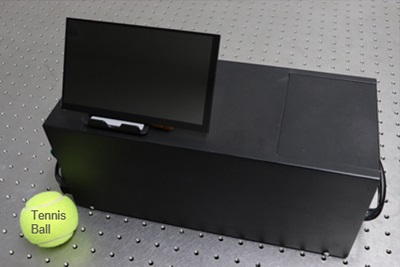 The portable platform combines a microfluidic device, an optical system, a liquid crystal and an image sensor. Source: Keine Nishiyamaa et al.the volume of each sample required. The technique involves detecting the fluorescence polarization of the bound fluorescent molecules by application of the liquid crystal molecules to control polarization direction. Inside the microfluidic device, the sample is attached to a fluorescence polarization analyzer that only measures the fluorescence signal and indicates the presence of antibodies.
A reagent was formulated to detect anti-H5 avian influenza virus antibody, a fluorescein-labeled protein that binds only with the antibody. The synthesis of additional viral-specific reagents could extend the application of the platform to the detection of antibodies against SARS-CoV-2, the causative agent of COVID-19.
Scientists from Hokkaido University, Obihiro University of Agriculture and Veterinary Medicine, Tianma Japan Ltd. and Tohoku University contributed to this research, which is published in Sensors and Actuators B: Chemical.