Army develops new COVID-19 antibody test
Siobhan Treacy | October 15, 2020
Researchers from the U.S. Army Futures Command have tested alternative ways to measure COVID-19 antibody levels. The result is a process that is faster, easier and less expensive to use on a large scale and that could be used to accurately identify potential plasma donors with the best chance of helping infected patients with convalescent plasma therapy.
The team set out to find a new way to measure virus neutralization (VN) titers. Titers are the gold standard of COVID-19 antibody testing. This kind of antibody testing is not widely available because it is technically complex and requires a few days for setup, running and interpretation.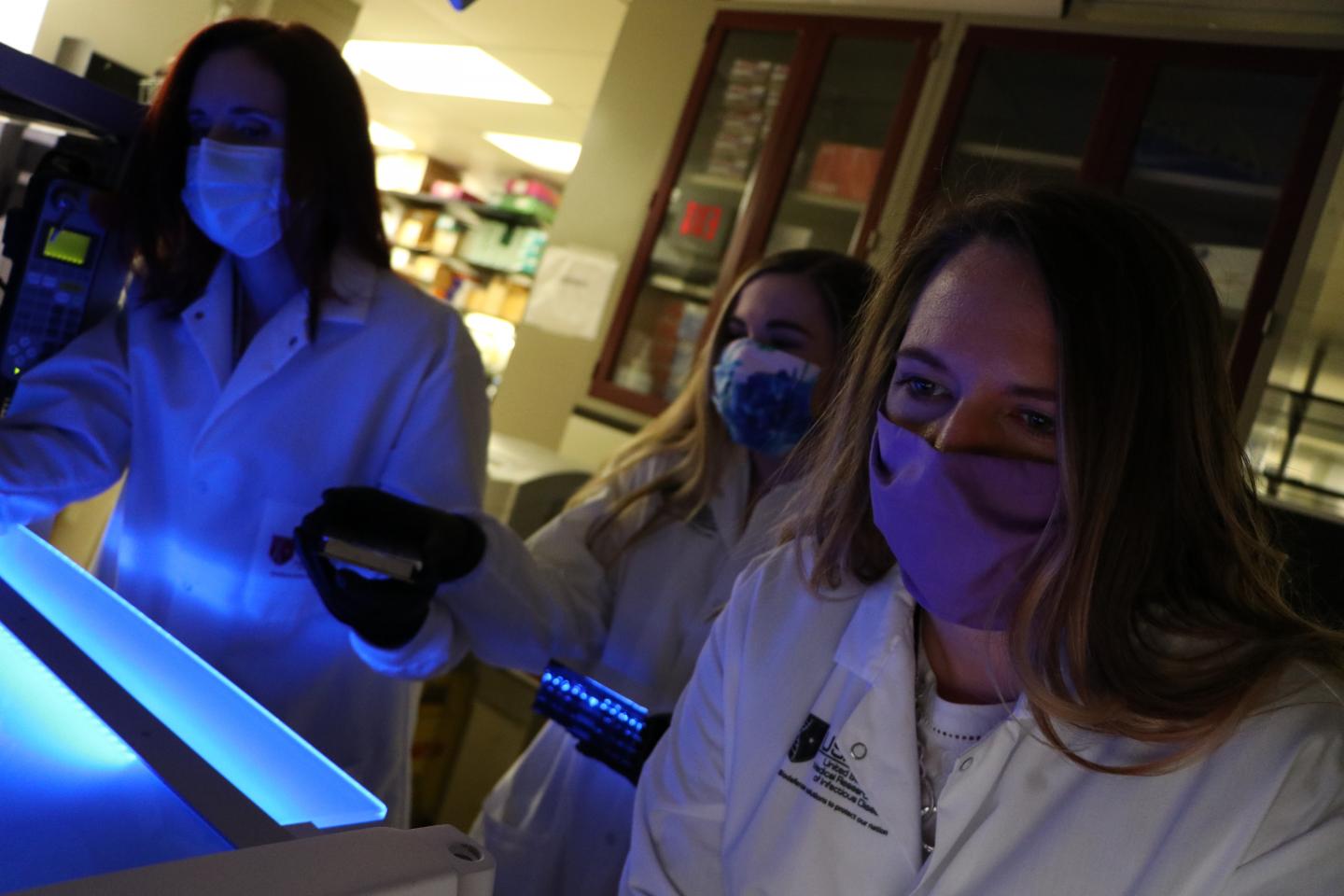 U.S. Army Medical Research Institute of Infectious Diseases researchers Laura Prugar, Kathleen Huie and Nicole Josleyn use a microneutralization assay and a high-throughput fluorescent imaging system to determine levels of neutralizing antibody to SARS-CoV-2 in convalescent patients. Source: John W. Braun Jr., USAMRIID VIOThe team also studied another test, the enzyme-linked immunosorbent assays (ELISAs). ELISAs are standard quantitive tests used to measure the amount of antibody in a sample. This test can be performed in any academic or medical lab.
During the study, researchers looked at the relationship of anti-spike ectodomain (ECD) and the anti-receptor binding domain (RBD). The spike ECD and RBD proteins are components in the spike protein made by SARS-CoV-2, which is critical to how a virus enters the body and spreads COVID.
The team's work determined that the relative amount of antibodies in the bloodstream of COVID-19 patients is linked to the ability to control viral infection. The more secure a disease is, the higher a level of neutralizing the antibody present in a body. This information can be used as a benchmark for clinical products in convalescent plasma treatment studies. It could also be used to assess how well a vaccine recipient may respond to a subsequent infection.
The results showed that ELISA tests had an 80% or greater probability of predicting VN titers or above the FDA recommended levels of COVID-19 convalescent plasma. Researchers also found that convalescent donors maintain high levels of immunity over many weeks. Frequent plasma donations did not cause any significant decrease in antibody and virus neutralization levels.
The team identified 27 individuals from the surveillance cohort with high antibody titers that indicate that some asymptomatic individuals may have plasma suitable for therapeutic users and may have relative immunity against COVID-19.
A paper on this research was published in the Journal of Clinical Investigation.