Improved cancer chip speeds up drug testing
Amy J. Born | January 22, 2020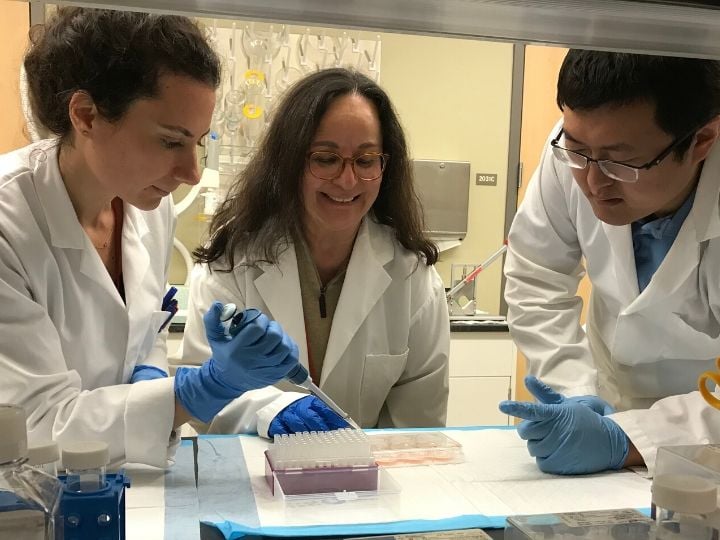 The Akay Lab biomedical research team includes (l-r) research assistant professor Naze Gul Avci, assistant professor Yasmine Akay and post-doctoral fellow Hui Xia. Source: Akay Biomedical Engineering Lab Glioblastoma (GBM) accounts for 50% of all malignant brain tumors, with a five-year survival rate of only 5.6%. A device developed by the Akay Lab biomedical research team at the University of Houston may help improve those odds. The team has created a chip that substantially shortens the timeline needed to identify the best drug combination for destroying brain tumor cells. The newly designed version is an improvement on a microfluidic brain cancer chip previously developed by the lab.
The new chip allows multiple-simultaneous drug administration and parallel testing of drug response for patients with GBM. The team, led by Metin Akay, professor and department chair of biomedical engineering at the University of Houston, cultures a piece of tumor biopsy (3D tumor spheroids from GBM cell lines and patient-derived GBM cells in vitro) and puts it in the chip. By adding chemotherapy drugs to the chip's microvalves the researchers can determine, in as little as two weeks, the best drug combination and the specific proportion for killing the greatest number of tumor cells. This is a huge improvement over typical cancer protocols that involve giving a patient one chemotherapy drug to test for several months at a time until an effective one is found.
The team further improved its existing brain cancer chip with an additional laminar flow distribution layer to reduce sample loss during cell seeding and to prevent spheroids from escaping. The spheroids form uniformly throughout the chip for consistent drug testing.
Assistant Professor Yasmine Akay said the study "suggests that this brain cancer chip enables large-scale, inexpensive and sample-effective drug screening to 3D cancer tumors in vitro. Further, this platform could be applied to related tissue engineering drug screening studies."
Metin Akay reported that the chip also has the potential to optimize rare tumor samples from GBM patients and to offer insight into tumor growth and response to drug therapies.
The paper is published in the inaugural issue of the IEEE Engineering in Medicine & Biology Society's Open Journal of Engineering in Medicine and Biology.